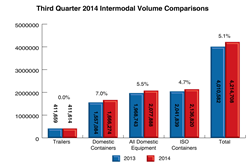 Calverton, MD (PRWEB) November 10, 2014
Total intermodal volumes rose 5.1 percent in Q3 year-over-year, according to the Intermodal Association of North America's (IANA) Intermodal Market Trends & Statistics report. Domestic and international volumes individually reported gains in Q3 of 5.5 percent and 4.7 percent increases year-over-year, respectively.
While international loads had the strongest growth in Q2, domestic container traffic reclaimed its place as the best-performing market segment in Q3 with a 7 percent increase year-over-year. This increase represents a minimal half of a percent slip from Q2's volumes. However, proof of the strength of domestic intermodal is the fact that for the first time since IANA began keeping data, domestic volumes were greater than international volumes, on a seasonally adjusted basis.
"Both domestic and international intermodal volumes remain strong through the midpoint of this seasonal shipping peak," said Joni Casey, president and CEO of IANA. "Domestic container movements have posted gains every quarter since Q3 of 2005 and this trend is expected to continue as highway capacity tightens."
On the heels of an outsized second quarter performance, international shipments recorded a 4.7 percent volume increase in Q3 year-over-year. This suggests that the 9.6 percent growth seen in Q2 for this segment was a result of shippers playing catch up after a harsh winter, as well as early import movements and continuing economic strength.
Trailer volumes were flat in Q3, ending a three quarter streak of gains and suggesting a weaker overall market outlook. Growth in this segment varied greatly among regions, with Eastern Canada posting a 12.3 percent increase and the Northwest reporting a 21.3 percent decrease. Trailer declines were also common in key corridors such as the South Central-Southwest lane, where volume dipped 5.5 percent. However, regional results were more encouraging in places like Eastern Canada, where trailer growth pushed overall intermodal growth above industry averages.
Eight of the nine IANA regions recorded overall volume gains this quarter. Western Canada and the South Central region reported volume growth over 10 percent. Growth in the Northeast, Southeast, and Eastern Canada regions was above the overall industry average of 5.1 percent, while the Southwest, Midwest and Mountain Central regions recorded increases between two and four percent. Northwest volumes reflected the only regional declines, decreasing 9.5 percent from the previous year's level.
Intermodal Market Trends & Statistics is published quarterly by IANA and is available on a subscription and individual copy basis. Members of the press may request a sample copy of the Q3 2014 Intermodal Market Trends & Statistics from Tara Mullen at tara(at)intermodal(dot)org. The report features detailed analyses and reproducible graphical representations of Q3 2014 results.
About IANA
IANA is North America's only industry trade association that represents the combined interests of the intermodal freight industry. The association's mission is to promote the growth of efficient intermodal freight transportation through innovation, education and dialogue. The association offers valuable information and services specific to the intermodal industry encompassing consensus business solutions that facilitate: operations, regulatory compliance, and policy issue management. IANA's membership roster of over 1,000 members represents the diverse companies critical to moving freight efficiently and safely. IANA provides a discussion forum for the many types of stakeholders along the supply chain, resulting in a strong unified voice advocating the needs of intermodal freight transportation. For more information, visit http://www.intermodal.org.