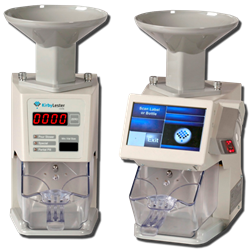 Dispensing narcotics manually is costly – in terms of manpower, potential mistakes, inventory discrepancies, and accountability.
Lake Forest, IL (PRWEB) November 11, 2014
Kirby Lester, LLC, a leading retail pharmacy automation provider, experienced a significant increase in demand for its KL1 and KL1Plus pill counters during the month of October 2014. The nationwide spike in Kirby Lester automated counting device sales was directly related to the U.S. Drug Enforcement Agency's (DEA) reclassification of the widely prescribed hydrocodone combination products to Schedule II.
The DEA's rescheduling took effect October 6. As a C-II drug, a hydrocodone medication now carries numerous restrictions to ensure safe handling, including a mandate to double-count every prescription before it reaches the patient and more stringent auditing and inventory control. Manual methods such as tray-and-spatula counting are proven to be slow, inaccurate (95% accurate at best) and untrackable. Kirby Lester pharmacy automation is an ideal solution for C-II dispensing and accounting.
Kirby Lester pill counters use patented optic sensors to automatically count medications in retail and hospital outpatient pharmacies. Kirby Lester devices eliminate human inaccuracy and speed the process of double-counts. The company's latest pill counter model, the KL1Plus, also includes scan-verification software to prevent a patient from receiving the wrong medication, strength or quantity. The KL1Plus keeps a record of every dispensed order.
"The October hydrocodone reclassification presents a new challenge to pharmacies that are already striving to improve their prescription fulfillment process. The use of the KL1 and KL1Plus for double-counting purposes enables the pharmacy to quickly and efficiently verify that all Schedule II drugs are dispensed accurately," says Dave Johnson, Kirby Lester's Vice President of Sales.
The October increase in Kirby Lester demand reflects a growing awareness among pharmacy managers that manual methods to dispense narcotics are costly – in terms of manpower, potential mistakes, inventory discrepancies, and accountability.