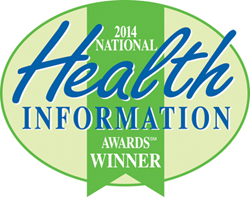 This program is a great example of how a workplace wellness challenge can inspire employees to be more active and improve their health.
PLYMOUTH MEETING, PA (PRWEB) November 12, 2014
Health Advocate, Inc., the nation's leading healthcare advocacy and assistance company and a subsidiary of West Corporation, announced today that the participant kit for its Walk Brooklyn workplace wellness initiative earned a Silver award from the 21st annual National Health Information AwardsSM.
Walk Brooklyn is a six-week walking competition jointly developed by Health Advocate and Brooklyn-based Maimonides Medical Center as a unique way to help hospital employees be more active and engaged at work. At the end of the competition, 284 participants lost nearly 1,000 pounds and logged over 37,000 miles, which is like crossing the Brooklyn Bridge about 33,000 times!
"Walk Brooklyn provided our employees with the opportunity to get healthier and get to know their co-workers better," said Pamela Brier, President and Chief Executive Officer of Maimonides Medical Center. "It aligned perfectly with our focus on fostering a culture of wellness throughout the hospital."
"The Walk Brooklyn campaign succeeded because Maimonides' leadership understood the needs of their employees," said Martin Rosen, Executive Vice President, Marketing, Health Advocate. "This program is a great example of how a workplace wellness challenge can inspire employees to be more active and improve their health."
Maimonides wanted to set an example for the patients and families they serve, while providing an opportunity for staffers to improve their health, so Health Advocate tailored the walking program to be centered around Brooklyn to help employees better identify with the program.
During the challenge, participants tracked their steps using pedometers and received weekly emails with updates and advice, plus the week's step goal. Teams that met their goals had the opportunity to win prizes throughout the six-week period, including a grand prize for the participant who logged the most total steps during the entire program.
The award-winning Walk Brooklyn participant kit includes a program guide, step tracker, ideas to increase activity and other helpful materials to help motivate participants to get active.
The National Health Information AwardsSM recognizes the nation's best consumer health information programs and materials. The program is coordinated by the Health Information Resource Center, a national clearinghouse for consumer health information program and materials.
About Maimonides Medical Center
Maimonides Medical Center is Brooklyn's pre-eminent healthcare provider and among the largest independent teaching hospitals in the nation. Widely recognized for its major achievements in advancing medical and information technology, Maimonides has 711 beds and over 70 subspecialty programs. For additional information on the nationally recognized clinical services at Maimonides Medical Center, please visit http://www.maimonidesmed.org
About Health Advocate
Health Advocate™, Inc., a subsidiary of West Corporation, is the nation's leading healthcare advocacy and assistance company, serving more than 10,000 clients, including many of the nation's largest companies.
Health Advocate's award-winning Health Advocacy program helps members navigate complex healthcare and insurance-related issues, saving them both time and money. We also offer a suite of complementary solutions, including Wellness Coaching, EAP+Work/Life and Chronic Care Solutions, among others. Our fully integrated program EmpoweredHealth seamlessly combines our services into a single, convenient solution, helping members efficiently maximize their benefits.
We also leverage the power of pricing transparency, personalized health communications and more to help members make more informed decisions and get more value out of the healthcare system. All supported by a powerful data analytics engine delivering improved health and financial results.
For more information, visit us at http://www.HealthAdvocate.com
# # #