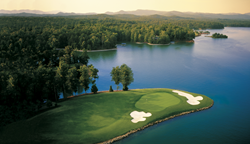 2015 Best Residential Golf Courses
Greenville, South Carolina (PRWEB) November 11, 2014
The Cliffs, a collection of seven private luxury mountain and lake communities in the western Carolinas, was honored by Golfweek with the inclusion of two golf courses in the annual "Best Residential Courses" list, which ranks the top 100 courses in the United States. The magazine selected both The Cliffs at Mountain Park and The Cliffs at Keowee Vineyards for the 2015 list, announced in the November issue.
"We are thrilled with this recognition from Golfweek, in Mountain Park's first year of operation. It's a testament to the excellent designs from Gary Player and Tom Fazio, but also the hard work put in daily by the Cliffs' teams to make these two of the best courses in America," said The Cliffs Director of Golf Brian Peeples. "Our Senior Agronomist, Course Superintendents, and Head Golf Professionals have done a tremendous job of opening and maintaining both courses and continue to bring a world-class playing experience to our members and guests" at the private golf clubs.
Opened in September 2013, The Cliffs at Mountain Park golf course features an 18-hole championship design by Gary Player tucked into a stunning wooded valley along the North Saluda River in the Blue Ridge Mountains. The 7,218-yard layout offers a variety of playing scenarios, including playable native landscapes, large, gently contoured greens and generous collection areas. The course design is ideal for walking, aligning with The Cliffs' mission to promote healthy living and an active lifestyle. Mountain Park was honored by GOLF Magazine and Golf Digest as one of the top new courses of 2013.
Tom Fazio Design completed The Cliffs at Keowee Vineyards course in 2000, subsequently voted among "America's Best New Private Courses" by Golf Digest. Called one of the most versatile designs in Fazio's repertoire, the 7,006-yard course navigates tree-lined fairways, ravines and coves and is surrounded by picturesque views of Lake Keowee and the Blue Ridge Mountains. This is the fifth consecutive year The Cliffs at Keowee Vineyards has been ranked among Golfweek's top 100 "Best Residential Courses" and is a stunning lakefront private golf club.
Take a peek at The Cliffs homes
The Cliffs is owned and managed by Arendale Holdings, LLC, whose 40-year history of successful development projects includes Currahee Club on Lake Toxaway in Georgia, Clear Creek at Lake Tahoe and the Colorado Golf Club, all of which ranked high on this year's list of private golf clubs with the latter two also included in the top 20. The Cliffs at Walnut Cove and The Cliffs at Keowee Falls were also recognized in this year's list following closely behind the top 100.
Golfweek reaches more than 160,000 readers each week and is considered one of the industry's leading golf publications.
About The Cliffs
The Cliffs is a collection of seven premier private, luxury mountain and lake communities located in the Blue Ridge Mountains of the western Carolinas, between two of the nation's top award-winning cities for quality of life – Greenville, South Carolina and Asheville, North Carolina – and Clemson, Furman, and North Carolina-Asheville Universities. Through one membership, Cliffs members enjoy access to amenities at all seven communities including seven championship golf courses, five wellness centers, 21 restaurant and private event venues, clubhouses, marinas, beach club, tennis complexes, equestrian center, hiking trails, wine clubs, an organic farm and more than 1,000 year-round social activities creating timeless experiences. Homes at The Cliffs range in price from $500,000 to $4 million+; homesites, from $100,000.
For more information about The Cliffs, visit CliffsLiving.com or call 866-411-5771.
About Real Estate Scorecard:
Real Estate Scorecard writes unbiased real estate reviews providing in-depth information about popular gated communities in Florida, Georgia, North Carolina, South Carolina and Tennessee, all in an effort to help people discover where to retire in the Southeast.
Website: http://realestatescorecard.com