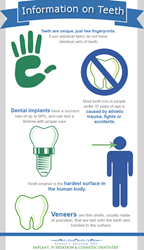 When we go long stretches of time with reduced amounts of saliva, our mouths become a breeding ground for harmful bacteria that can then create tooth decay," said Dr. Receveur.
NEW ALBANY, IN (PRWEB) November 13, 2014
Dr. Ronald Receveur, a premier New Albany cosmetic dentist, is reminding patients to maintain a healthy oral routine during this year's influenza season.
According to the Centers For Disease Control and Prevention, anywhere from 5 to 20 percent of Americans contract the virus every year. The flu does not just negatively affect a person's overall health; it also can have adverse effects on their oral health, Dr. Receveur writes in his blog published Nov. 7 on his website, http://www.NewAlbanyImplants.com.
Dr. Receveur writes that flu symptoms like sore throat and a stuffy nose often can cause persistent dry mouth. Saliva not only flushes out food debris and helps maintain our enamel, it also fights against harmful bacteria living in our mouths.
"When we go long stretches of time with reduced amounts of saliva, our mouths become a breeding ground for harmful bacteria that can then create tooth decay," said Dr. Receveur, who is Louisville and New Albany residents' choice for All On Four dental implants.
Dr. Receveur, who has been a New Albany dentist for more than three decades, encourages the public to stay properly hydrated if they have the flu in order to maintain healthy saliva levels and avoid potential dental issues.
In addition to the sore throat and stuffy nose, another annoying trait of flu season is a nagging cough. Those with the cough often flock to the nearest drug store for cough drops or cough syrup. Dr. Receveur warns that many of the traditional methods designed to treat the cough like throat lozenges or syrups are loaded with sugar and should be approached with caution. He advises the public to seek out healthier, sugar-free options.
"Cough drops, specifically, are designed to slowly dissolve inside our mouths," Dr. Receveur said. "So, when we consume cough drops packed with sugar, we are exposing our teeth to the harmful ingredient for long periods of time, opening the door to tooth decay."
Dr. Receveur, who practices in New Albany, Ind., across the Ohio River from Louisville, Ky., offers Louisville cosmetic dentistry services and general dentistry such as teeth cleanings, X-rays, fillings, extractions, root canals, crowns, teeth whitening and veneers at his dental implant clinic.
Dr. Receveur also has vast experience with All on Four dental implants, All on Six dental implants, mini dental implants, One Day Smile Solution, dental implants in one hour, bone grafting and sinus lifts, all with IV sedation dentistry. He has been restoring implants with prosthetics and complex dentistry for 25 years and surgically placing implants since 2008.
Dr. Receveur offers a five-year warranty on all cosmetic and prosthetic work. Dr. Receveur, a New Albany native, has been the family dentist of choice for Southern Indiana and Louisville since 1981.
Dr. Receveur was born with a partial cleft palate that left him with a missing front tooth. As a child he "wore an awful removable partial." As a teenager, Dr. Receveur received a permanent bridge, but his dentist destroyed one of his healthy, natural teeth in the process. These dental experiences helped drive him to find better dental solutions for his patients.
Dr. Receveur graduated from Indiana University Southeast with honors in chemistry, after which he earned his doctorate in Dental Surgery from the Indiana University School of Dentistry.
Dr. Receveur has attended more than 5,000 hours of postgraduate training and even gone to Portugal to study with the best dentists in the world. He has been awarded numerous advanced certifications in Implant, Sedation, Comprehensive,Restorative and Aesthetic dentistry so he may provide the most current dental techniques to his Louisville and New Albany dental patients.
Those looking for low cost dental implants and other cosmetic and reconstructive dentistry should go to NewAlbanyImplants.com for more information.