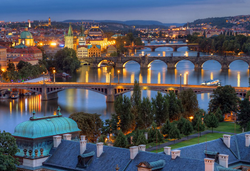 A good venue finder will already have established relationships with the most noteworthy venues around the world and any agency worth its salt will have people on the ground doing inspections, familiarisation visits and plenty of local knowledge
Portsmouth, United Kingdom (PRWEB UK) 4 December 2014
If you've ever been tasked with organising an event that's taken place overseas you'll know all about the fraught, hair-pulling pain and trepidation that comes with the job. The organisation that comes with getting your delegates there and keeping them enthralled with your show is one thing, but that's only if you've won the battle of linguistics and logistics and secured the perfect venue to handle the event in the first place.
So what are the options when trying to find a venue overseas? Of course, the do it yourself options is there, but consider the fact that for every enquiry made to a venue, someone will be chasing for an answer. The most logical step is to consider using a professional venue finding agency to do the search instead. These people are the matchmakers of the events world; they weigh up, with unswerving precision, exactly what the client is looking for in an event before they search and source the most suitable 'suitor' from an invariably colossal database of tried and trusted international venues.
Some things to consider when using a venue finder;

A good venue finder will already have established relationships with the most noteworthy venues around the world
Check to see if the agency have people on the ground doing inspections, familiarisation visits and have plenty of local knowledge to guarantee a trip without any hitches
Look for affiliations to both IATA and ATOL to reassure you they are a reputable agency and you are covered in the event of anything going wrong
It's also worth considering consulting with a full management event agency, they may have a venue finding team internally with the added benefit of speaking with a knowledgeable event management team that can advise on matters relating to catering, technology and communications, security, set production and delegate registration.
Whether opting for the support of a venue finder or doing it yourself, there really is no substitute for good, qualified research. The budget and brief will determine much of what needs to be achieved, but if you work on the detail from every conceivable angle – from the headcount to the tech and facilities and the getting of all that to the right place – you'll be in a better position to pulling out more stops than you might think and staging an event that'll be memorable for all the right reasons.
Richard Harper
Head of Marketing
Richard is Head of Marketing for In 2 Events, a corporate events and exhibition agency. Based on the South Coast, In 2 Events specialise in internal communications, corporate events, conferences, sales meetings and exhibition design and build.
Richard has over 6 years experience working in both a B2C and B2B environment and specialises in digital channels including PPC, SEO, E-Mail and Content Marketing. His passions include developing innovative marketing strategies that drive growth and challenge conventional marketing methods. A believer in utilising technology available to enhance the customer journey, Rich is a regular contributor to industry blogs and marketing seminars.