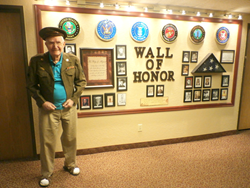 LAKE OSWEGO, Ore. (PRWEB) November 10, 2014
Holiday Retirement, one of the nation's leading senior living providers, celebrates its resident military veterans with Walls of Honor. At more than 300 communities across the United States, the photos and names of each resident who served in a branch of America's armed forces are proudly placed on public display for all to see.
In an effort to capture these distinguished wall displays, Holiday recently collected photos of more than 150 Walls of Honor and posted them to its website. In addition, Holiday profiled several of its veterans – one from each branch of the military – for the website, including a brief synopsis of their service and accompanying photos.
"We're proud that so many of our country's veterans call our Holiday communities home," said Kai Hsiao, president and CEO of Holiday Retirement. "We value their service, and serving them now is one of our greatest honors."
From Walls of Honor and veteran profiles to preserving veteran stories and donating millions of dollars to veteran causes, see just how far Holiday's commitment extends at http://www.holidaytouch.com/veterans.
About Holiday Retirement
Since 1971, Holiday Retirement has endeavored to provide its signature "Holiday Touch" to residents and their families. Today, Holiday is a trusted name in senior living and provides security, comfort, and value to independent seniors seeking a fulfilling lifestyle. Holiday operates more than 300 retirement communities, making it one of the largest senior living providers in the United States. For more information about Holiday Retirement, call 888-370-7071 or visit http://www.holidaytouch.com.
###