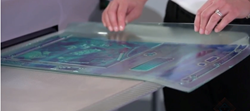 You can now clean, rinse and dry flexo plates much quicker, more effectively and consistently with OVIT Flexo Matic plate washers
Bryam, OH (PRWEB) November 12, 2014
Anderson & Vreeland, Inc. now offers OVIT Flexo Matic plate washers designed to automatically clean, rinse and dry flexo plates, saving money and improving plate quality by automating this time-consuming maintenance process.
Results demonstrate that automatic plate cleaning systems reduce plate damage and offer superior consistency in cleaning, as opposed to manually cleaning flexo plates. Manually cleaning plates may cause damage due to excessive scrubbing or soaking plates for an extended time to remove dried ink deposits. It is virtually impossible to manually clean plates so they are exactly the same after repeated use.
"You can now clean, rinse and dry flexo plates much quicker, more effectively and consistently with a Flexo Matic plate washer. You simply feed plates into the system and they are cleaned and dried automatically, and ready for storage," noted Jessica Harkins Harrell, Technologies Manager for Anderson & Vreeland, Inc.
Available in a range of sizes from 35.07" x 42.55" to 56.3" x 72.05", OVIT Flexo Matic plate washers clean all types of ink from the complete plate surface with liquid detergent and two rotating, translational brushes. The automatic plate washers remove ink from hard to clean reverse areas and screens, and offer unsurpassed consistency in cleaning so plates remain in the same top condition after repeated use.
Features include independent, adjustable feed and brushing speeds, an inlet "feed" table and outlet receiving basket. Environmental benefits of OVIT Flexo Matic plate washers include extending the life of flexo plates for repeated use, and recycling the plate washing liquid and rinse water that provides for extended use. OVIT Flexo Matic plate washers also assist with compliance of safety rules for the operator and environment since they automate the process of cleaning and drying flexographic plates.
For more information visit http://www.AndersonVreeland.com or call toll-free 866.282.7697.
About Anderson & Vreeland, Inc.
Founded in 1961, Anderson & Vreeland has earned an international reputation as a leading provider of flexo prepress solutions for the graphic arts industry. The company offers a "systems" approach to conducting business by evaluating customer needs and offering the best solutions in the form of equipment, materials, training, and technology tailored for each customer. A&V supports these solutions with over 50 years of experience and a staff of technical sales representatives thoroughly knowledgeable about the fine points of flexo. The company's substantial flexo experience and technical support sets it apart from other prepress suppliers. This experience and support results in smoother and easier integration of technical advancements affecting flexo prepress. Further information is available on the web at http://www.AndersonVreeland.com.