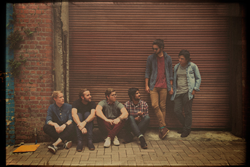 New York, NY (PRWEB) November 10, 2014
Hailing from Australia's picturesque Gold Coast, FAIRCHILD are gearing up for the release of their 'Sadako' EP with a new music video for lead track "Arcadia." The music video was premiered by Brooklyn based music blog Alt Citizen and can be viewed on FAIRCHILD's YouTube Channel.
To create the fun, energetic visual style of the video, every frame from the clip was printed onto A4 paper, hand painted and photographed back into the timeline for a stop-motion effect. It totalled around 4200 frames. The video was directed by Turk Lees and produced by the band's bassist, Tommy Davies.
FAIRCHILD's blend of intimate, yet epic indie rock, is a theme that tightly winds through their 'Sadako' EP, and has drawn comparisons from critics to the likes of The Temper Trap, Cayucas and Two Door Cinema Club. After spending two months working on the six-track EP, it was mixed by Catherine Marks (Foals, Wolf Alice, The Killers) at London's Assault & Battery Studios. Marks also recorded and produced the band's debut EP 'Burning Feet', which they released earlier this year after some years experimenting with their sound.
Japan has always been a special place to the band as it's where their first overseas tour took them. The EP's simple, almost abstract title harks back to their respect for the country and American author Eleanor Coerr's, 'Sadako and the Thousand Paper Cranes.' Coerr's book tells the story of a Japanese girl who was two years old when the devastating Hiroshima atomic bomb was dropped. She became very ill and was told of the legend if you make 1,000 paper cranes it can make you better. Feeling inspired by this story, a friend of vocalist Adam Lyons made him 1,000 paper cranes for good luck while he was at university. They hang above his bedroom, where the band recorded and produced the EP. The band also includes Adam's older brother Nathan Lyons on keys, guitarists Patrick Huerto and Tim Voeten, bassist Tommy Davies and drummer James Alexander.
FAIRCHILD's 'Sadako' EP will be available November 18th in North America via OK!Good Records and November 17th in Australia via Canvas Sounds. The OK!Good Records release is available now for pre-order on iTunes and includes an exclusive US Remix of "Stay Young."
Track-listing:
1. Arcadia
2. Outside
3. Stay Young
4. Waiting For It
5. Strangers
6. Running Bear
7. Stay Young (US Remix) [North American Exclusive]
About OK!Good Records:
OK!Good Records is a genre independent record label established in 2010 to distribute, market, and promote artists and music that defy boundaries, reject limitations, and transcend the ordinary. They champion and celebrate independent music, thought, art, expression, and enterprise.http://www.okgoodrecords.com