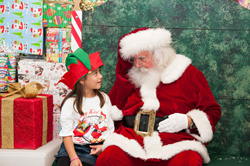 "Every child that comes on December 18th will be presented with a very special toy from Santa himself."
Tampa, Florida (PRWEB) November 10, 2014
Mangrove Software, a leading cloud provider of human capital management solutions, has announced their second annual Every Kid Gets a Toy event. With more than 60,000 dancing lights, Mangrove turns its property at 1501 S. Church Ave. into a winter wonderland complete with a special visit from Santa on Thursday, December 18, 2014 from 5:00 p.m. – 9:00p.m.
This family-friendly event is open to the public and will include:

During the Every Kid Gets a Toy event, Santa and his Elves will be sure that all have a good night with lots of toys giveaways (while supplies last), candy canes, and Santa will be available for holiday themed pictures. Santa's toys are age appropriate for children ages two (2) through eleven (11).
"We are just trying to spread some joy and Christmas spirit. This year we are planning bigger event with more toys, more activities, and more lights." says Richard Cangemi, CEO of Mangrove Software. "Every child that comes on December 18th will be presented with a very special toy from Santa himself."
For those families who wish to keep their tradition of driving and looking at lights, Mangrove will broadcast the sounds of the season on a low range frequency channel (87.9fm) that will match the dancing lights on the building. Mangrove's spectacular light display will run from Thursday, November 27, 2014 through Wednesday, January 1, 2015 from 6:00 p.m. -9:00p.m.
"This is a magical time of year and it's nice that our company can give back to the Tampa Bay community in such a special way. That's what makes this event so amazing," said Cangemi.
For more information and a complete list of frequently asked questions, please visit http://www.everykidgetsatoy.com.
About Mangrove Software
Mangrove designs, markets, implements and supports HR, payroll, and talent management solutions in the United States. Mangrove is an Internet-based solution delivered via cloud, and designed to improve the relationship between employer and employee through the use of technology. Mangrove's solutions deliver the functionality businesses need to manage their employees, including recruitment and onboarding, HR management and compliance, benefits management and online enrollment, payroll, performance management, reporting and analytical decision-making tools, time and attendance, and a self-service Web portal for executives, managers, administrators, recruiters, and employees. For more information on Mangrove and its solutions, please visit http://www.mangrovesoftware.com.