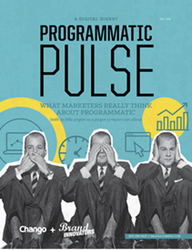 Marketers value cross-device targeting and improved performance.
NEW YORK (PRWEB) November 11, 2014
Marketers consider themselves "optimistic" about programmatic advertising and describe it as "exciting" and "promising." This according to a new study by Chango, a programmatic advertising company, in conjunction with Brand Innovators. The study is part of "The Programmatic Pulse," a new digital digest by both companies.
Based on a survey of 232 brand marketers (no agencies or publishers) and interviews with key stakeholders from Fortune 500 companies, the study authors found that:

Most marketers are buying with programmatic, but it is still new for many. 75% of marketers are currently using programmatic. A third of them (31%) have been doing so for less than a year. Furthermore, 74% predicted their programmatic budgets would increase in 2015.
Marketers value cross-device targeting and improved performance. A large majority (80% and 78% respectively) said that the ability to target consumers across devices and improved performance are very important or extremely important drivers of programmatic today. These were followed by having a more complete data set (72%) and cost efficiencies (72%).
Agency or In-House? 39% of respondents who use programmatic execute totally through agencies, and 33% do it all in-house. 28% are a mix of the two.
Measurement and data integration still holding programmatic back. 67% said challenges with measuring ROI of programmatic campaigns are the top inhibitor to wider adoption. The difficulty of integrating data is the next largest inhibitor with 57% calling it very important or extremely important.
Marketers are bullish on programmatic's potential. When asked what word describes their feelings about programmatic's future, the top responses were "Optimistic," "Exciting," and "Promising." 70% believe most digital buying will be done programmatically in the future. 75% think programmatic will expand beyond display in the near future and 67% predict that future includes television.
"Marketers are passionately embracing programmatic and very bullish on its future," said Keith Lorizio, chief revenue officer, Chango. "This commitment is reflected in the significant shift of marketing budgets to support programmatic campaigns over the last 12 months."
The Programmatic Pulse can be downloaded at http://www.chango.com/resources/whitepapers/pulse/?utm=pressrelease
About Chango
Chango is a programmatic advertising company, purpose-built for the marketer. The company uses exclusive intent data and technology to create relevant, timely advertising campaigns, and produce rich customer insights. The company's unique live-profile technology makes intent data available faster than anyone else to help clients efficiently build brand awareness, acquire new customers and retarget site visitors. Chango works with more than 60 of Fortune 500 marketers and companies such as eBay, Sears, Clorox, Sprint and Toyota. To find out more, visit http://www.chango.com.