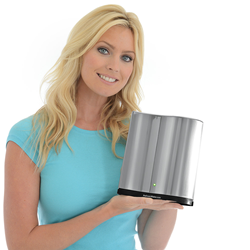 Pelican a Refreshingly Smart Choice
Deland, Florida (PRWEB) November 11, 2014
Pelican Water Systems, the market leader in environmentally-friendly, affordable, water filtration and salt-free softening systems, is pleased to announce the addition of a brushed nickel finish version of its affordable and innovative Countertop Drinking Filter System.
The new filtering system, launched in November 2014, has been a highly successful and affordable addition to the Pelican line of water filter products. After strong consumer demand for practical eco-friendly design in kitchen and bathroom decor, Pelican decided to add a brushed nickel finish option to its already impressive filter line up. This affordable water filtration system, priced at just $114.99 for the brushed nickel version, makes an excellent addition to any home, and is a great gift for the holidays.
The Countertop Drinking Filter System, also available in white for $99.99, connects directly to the kitchen faucet, and filters 450 gallons for an approximately six month filter life. This innovative filtering system removes more than 98% of chlorine and 95% of chloramines from drinking water.
This not only makes water, and food prepared with water, taste much better. The system filters out over 60 contaminants including chlorine, choloramines, lead and more. The countertop drinking filter also offers a six-month filter life, filtering an impressive 450 gallons of water before a filter replacement is recommended by an indicator light built into the system.
Whichever Pelican Water product chosen – the Countertop drinking filter system in white or brushed nickel, or the Under Counter Drinking Filter System – each system offers safer, purer, delicious water in every home, without the waste and expense of bottled water.
To learn more about our affordable water filtration products for the tap and for the entire home, please visit PelicanWater.com.
About Pelican Water Systems
PelicanWater.com is the official, factory-direct retail website for Pelican Water Systems. It provides professional knowledge and leading technologies in single tap and whole house water filtration systems, as well as salt-free water softener systems. Pelican Water products use cutting edge technology and enable customers to enjoy purer, cleaner drinking water.
For over two decades, Pelican Water has been the global market leader in water filtration and water softening systems, and our mission remains to be the world's premier water solutions company through the development of premium, innovative, and environmentally responsible products and our unsurpassed commitment to integrity, passion, and exceptional customer service.
For more information about Pelican Water Systems, visit PelicanWater.com.