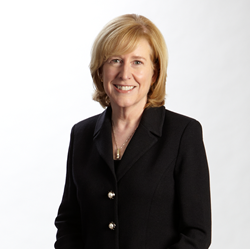 Her broad business experience and global perspective has brought immense value and distinction to MWH over the years.
Broomfield, Colo. (PRWEB) November 11, 2014
MWH Global, the premier solutions provider focused on water and natural resources, announced that today Janet Linden Cooper has been honored with the 2014 Outstanding Private Company Director award by the Denver Business Journal/National Association of Corporate Directors. She was selected because of her service and dedication to maintaining a high standard of duty and care in her role as a member of several distinguished boards of directors.
Cooper has served as a member of the MWH Board of Directors since 2009, and has contributed vast knowledge in the areas of finance, accounting and international business. "Her broad business experience and global perspective has brought immense value and distinction to MWH over the years," said Alan Krause, chairman and chief executive officer of MWH Global. "Her commitment to service is noteworthy and stands as an example of what is possible when we generously offer our time and talents."
In other roles, Cooper has served as the chief financial officer of McDATA Corporation and as senior vice president and treasurer of Qwest Communications. Prior to her position at Qwest, Ms. Cooper was the vice president, finance and controller for US West; vice president of treasure and tax for The Quaker Oats Company; and associate and project engineer for General Motors.
Currently, Ms. Cooper sits on several distinguished public company boards including the board of Lennox International, Inc., where she is a member of the Audit Committee and the Public Policy committee. At the Toro Company, Ms. Cooper is chair of the Audit Committee and a member of the Finance Committee. She also serves on the board of Resonant, a California-based company, where she chairs the Audit and Compensation Committee. In addition, Ms. Cooper is a board member emeritus chair of the program committee for Girls Hope/Boys Hope of Colorado, a non-profit which assists capable, at-risk youth obtain college educations.
Ms. Cooper holds a Bachelor of Science in math and computer science from the University of Illinois, a Master of Science in applied mathematics from the University of Illinois, and a Masters in Business Administration from the University of Chicago Booth School of Business. She resides in Greenwood Village, Colorado.
About MWH Global
MWH Global is dedicated to Building a Better World. As specialists in water and natural resources, MWH employees use innovative ideas and technology to help solve complex infrastructure and environmental challenges. This work is built on a nearly 200-year history during which MWH has delivered services from initial planning and design through construction, start-up and operations. Today, MWH employs more than 7,000 experts including engineers, consultants and construction professionals in 35 countries on six continents. Each of these experts is committed to serving global communities through sustainable development and project delivery. MWH is a private, employee-owned company headquartered in Broomfield, Colorado. For more information, visit mwhglobal.com or connect via Twitter, Facebook and LinkedIn.
###