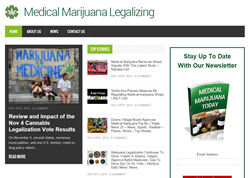 With marijuana legal in the federal government's backyard, it's going to be increasingly difficult for national politicians to continue ignoring the growing majority of voters who want to end prohibition
San Francisco, CA (PRWEB) November 11, 2014
On November 4, numerous states, municipalities, and one U.S. territory voted on the legalization of marijuana for either recreational or medicinal purposes. MedicalMarijuanaLegalizing.com reported on the results and the potential impact the result with have for other states.
Eighteen states have already chosen to decriminalize marijuana, while 23 states and the nation's capital already permit the use of medical weed. While voters in Alaska, Oregon, and Washington, D.C. approved the possession and consumption of recreational marijuana in Tuesday's midterm elections, thus joining Washington and Colorado, the voters in Florida narrowly rejected to legalize medical marijuana.
The Nov 4th article in Alaska Dispatch News entitled " Alaskans Vote to Legalize Marijuana" reported that Alaskans have voted to legalize marijuana by a 52-48 percent margin, with 100 percent of the precincts reporting. The passage of Alaska's Ballot Measure 2 initiative makes it the first red state with full marijuana legalization, allowing for the possession, sale, and use of the drug for recreational purposes. The manufacture, sale, and possession of marijuana paraphernalia will also be considered legal. With official approval, a regulatory body will be given nine months from the date the election is certified to craft regulations on the operations of marijuana businesses.
According to the Nov 5th TIME Magazine article titled "Voters Lit Up for Marijuana in the Midterms" Oregon's Measure 91 initiative has been tallied, passing with 54 percent of the vote. More than four decades ago, Oregon was the first state to decriminalize possession of marijuana in small amounts. The passage of Measure 91 enables the state's liquor control agency to regulate production and sales of the substance, and allows residents ages 21 and older to possess and grow a maximum of four plants at a time when the law takes effect in July 2015.
The same TIME article also reports that in Washington, D.C., voters have also approved the use of recreational marijuana. With almost 70 percent of the vote in favor of the District's Initiative 71, residents and visitors ages 21 and above will be allowed to possess up to two ounces of the drug for personal use, grow up to six marijuana plants in their homes, and even gift one ounce of it to someone else. There will be no regulated market in the District, and selling marijuana is still not permitted.
To quote the Nov 4th NPR.org article entitled "Marijuana Votes: Oregon And D.C. Legalize; Florida Says No To Medical" Florida's Amendment 2 received 58 percent of the vote, the medical marijuana initiative needed at least 60 percent of the votes to pass. The passage of Amendment 2 would have made Florida the 24th state and the first southern state to adopt a law on medical marijuana.
According to the Nov 4th Pacific Daily News article "ELECTION: Unofficial results, all 58 precincts reporting", more than 56 percent of the vote passed Proposal 14A in Guam - the only U.S. territory to vote on marijuana legislation - thus legalizing the use of medical marijuana and allowing the operations of dispensaries regulated by the Department of Public Health and Social Services. Marijuana will be used as a form of treatment for debilitating medical conditions such as hepatitis C, HIV, AIDS, cancer, multiple sclerosis, Crohn's disease, Parkinson's disease, and glaucoma.
Marijuana Majority Chairman Tom Angell feels that the strong support in Washington, D.C. encourages all supporters of marijuana legalization. "With marijuana legal in the federal government's backyard, it's going to be increasingly difficult for national politicians to continue ignoring the growing majority of voters who want to end prohibition," Angell states.
As far as the impact, MedicalMarijuanaLegalizing.com referenced Marijuana Policy Project spokesperson Mason Tvert who according to an article in USA Today entitled "Where America Landed on Marijuana", stated that, "Wins in Alaska and Oregon will provide a boost to efforts in other states because they will demonstrate the benefits of regulating and taxing marijuana." Tvert also stated that, "Losses won't really have much impact. After all, an initiative to make marijuana legal failed in Colorado in 2006."
In order to provide convenience to site visitors, MedicalMarijuanaLegalizing.com provides extensive coverage on important and interesting updates on cannabis legalization across North America. The site combs through the countless news sources on a daily basis, and releases pertinent news, features, and opinions on the marijuana industry and culture, such new legislation, trends developments, legislation, implications, business opportunities and more.
MedicalMarijuanaLegalizing.com is part of a portfolio of cannabis industry sites which includes http://www.greenrushreview.com, http://www.medicalmarijuanalovers.com, http://www.potgrowing.net and http://www.growlegalcannabis.com.
Companies seeking exposure on MedicalMarijuanaLegalizing.com (or any of it's sister sites), or writers looking to submit stories/articles (unique content only) can contact editorial(at)greenrushreview(dot)com for more information.