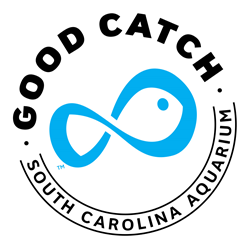 Charleston, S.C. (PRWEB) November 10, 2014
Cooler weather is here and that means seasonal dishes are on tap at the next South Carolina Aquarium Good Catch Dinner. The dinner takes place at High Cotton Restaurant Nov. 19 starting with a reception at 5:30 p.m. A portion of the proceeds from the dinner will support Good Catch, the Aquarium's sustainable seafood program. Executive Chef Shawn Kelly has created a delicious four-course dinner with a Lowcountry twist in the heart of historic Charleston.
Offerings Include:

Hors d'oeuvres paired with JCB Brut No. 21 Cremant de Bourgogne, Burgundy, France NV
Winter vegetable and Carolina crab salad with pistachios, faro, lemon olive oil paired with Sokol Blosser Pinot Gris, Willamette Valley, Oregon 2012
Local shrimp ravioli with green peas, tomato, smoked trout jus, and Sunburst Farm trout caviar paired with T&P Matrot Burgogne Blanc, Burgundy, France 2012
Panko encrusted flounder with Brussels sprouts, cauliflower, spaetzle, and a brown butter emulsion paired with Palacios Remondo "La Montessa" Crianza Rioja, Spain 2011
Oyster ice cream with vanilla bean French toast and bacon brittle with King Bean Coffee signature Maverick blend
Guests will experience a mix of tasty, local ingredients, inspired wine and Charleston hospitality while dining at High Cotton Restaurant. The trendy bar, stylish dining room with heart pine floors and antique brick details welcome diners for a one-of-a-kind Lowcountry meal.
South Carolina Aquarium Good Catch coordinator Shelley Dearhart will be present to share information with guests about sustainable seafood best practices and how to make wise choices when dining out and at home.
Fast Facts:

The Good Catch dinner takes place Wednesday, Nov. 19, 2014, 5:30 p.m. at High Cotton Restaurant, located at 199 East Bay Street in downtown Charleston.
The experience is $70 per person.
Ten percent of the proceeds will be donated to Good Catch at the South Carolina Aquarium.
Space is limited and reservations are required. For reservations, call (843) 724-3815.
For all media inquiries, please contact Kate Dittloff at (843) 579-8660 or kdittloff(at)scaquarium(dot)org.
About South Carolina Aquarium Good Catch:
Good Catch generates awareness and leads communities in support of healthy fisheries and consumption of responsibly harvested seafood. The program pragmatically balances the health of the environment with South Carolina's demand for seafood by working with consumers and chefs, helping them make wise seafood choices to support healthy, abundant oceans. More than 115 restaurant partners have committed to serve and purchase sustainable seafood whenever possible and to avoid species that are immediately vulnerable to extinction. As a community, when we choose seafood from local, sustainably managed fisheries or dine at restaurants which do the same, we minimize our impact on the environment. Find the most up-to-date Good Catch partner list and more information on making good seafood choices each season at scaquarium.org/goodcatch.
About High Cotton Restaurant:
Located at 199 East Bay Street in historic downtown Charleston, High Cotton is a property of Maverick Southern Kitchens, owners of Slightly North of Broad (Charleston); High Cotton (Charleston and Greenville); Charleston Cooks! (Charleston, Greenville, Columbia); and the Old Village Post House (Mt. Pleasant). For more information visit http://www.HighCottonCharleston.com.
About the South Carolina Aquarium:
The South Carolina Aquarium, Charleston's most visited attraction, features thousands of amazing aquatic animals from river otters and sharks to loggerhead turtles in more than 60 exhibits representing the rich biodiversity of South Carolina from the mountains to the sea. Dedicated to promoting education and conservation, the Aquarium also presents fabulous views of Charleston harbor and interactive exhibits and programs for visitors of all ages.
The South Carolina Aquarium, a 501(c) (3) not-for-profit organization and is open daily from 9 a.m. to 5 p.m. The Aquarium is closed Thanksgiving Day, half day Dec. 24 (open 9 a.m. to 1 p.m.) and Dec. 25. Admission prices are: Toddlers (2 and under) free; Youth (3-12) $17.95; Adults (13+) $24.95. The Aquarium plus the 4-D Theater experience is free for Toddlers, $22.95 for Children, $29.95 for Adults. The 4-D Theater experience only is $6.95 for Children and Adults, and free for Members. For more information call 843-720-1990 or visit scaquarium.org. Memberships are available by calling 843-577-FISH.
###