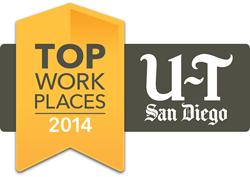 "We value our employees as our #1 asset and are committed to their happiness and professional growth," said Jeff Goldberg, founder and CEO of Cali Bamboo.
San Diego, CA (PRWEB) November 12, 2014
Cali Bamboo, the leading manufacturer of green building materials made primarily from bamboo, announces that it has been selected as one of The U-T San Diego Top 40 Workplaces.
Known for its vibrant, fun, and contemporary company culture, Cali Bamboo strives to cultivate a dynamic work environment where passionate, ambitious, and self-motivated employees thrive. The company has doubled in size the past 18 months, and attributes its success to its employees who are not only driven by their passion for the environment, but also committed to innovation and delivering the best customer experience possible.
"At Cali Bamboo, we value our employees as our #1 asset and are committed to their happiness and professional growth," said Jeff Goldberg, founder and CEO of Cali Bamboo. "We are incredibly honored to be among San Diego's Top 40 Workplaces and could not be more proud of our passionate, hardworking, talented team."
Cali Bamboo unveiled its new San Diego headquarters in March 2014. Designed to foster a collaborative and creative atmosphere, the sustainably-built facility includes: bamboo and cork floors, an abundance of reclaimed/recycled materials made in the USA, a regulation basketball hoop, ping pong table, and open kitchen big enough for company meetings. Multiple operable garage glass doors let in natural light and fresh air, opening up to a lawn that doubles as a picnic area and dog run for staffers' pets. Every Monday a shipment of locally grown organic fresh fruit arrives to start the week off on a healthy note. Bootcamp or CrossFit trainers come in twice a week and a fleet of beach cruisers are available for those who want to bike to neighboring Green Flash Brewery, restaurants, or nearby gym.
"Creating an engaging work environment in our new office space has been a true labor of love, and this award validates our efforts to create an inspiring workplace," said Goldberg. "It is rewarding to learn that our employees value the positive atmosphere at Cali Bamboo."
The Top Workplaces are determined based solely on employee feedback. The employee survey is conducted by WorkplaceDynamics, LLP, a leading research firm on organizational health and employee engagement. WorkplaceDynamics conducts regional Top Workplaces programs with 40 major publishing partners across the United States.
The U-T published the complete list of Top Workplaces on November 9. For more information about the Top Workplaces lists and WorkplaceDynamics, please visit http://www.topworkplaces.com and http://www.workplacedynamics.com.
About Cali Bamboo
Headquartered in San Diego, Cali Bamboo manufactures green building materials made primarily of bamboo — one of the world's most durable, sustainable and renewable materials. Founded in 2004, the company has become a model of how individuals, businesses and communities can implement modern design while maintaining structural strength and environmental integrity. Cali Bamboo services residential and commercial building projects across North America with a wide range of products including bamboo flooring, fencing, composite decking, plywood, cork wall tiles, poles, paneling and more. For more information visit http://www.CaliBamboo.com.