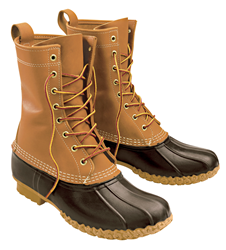 Our westernmost store is going to give folks in the Denver area and beyond, many of whom are only familiar with us through our catalog and web site, the ability to touch, see and feel the true essence of our brand in person, just in time for the holidays
Freeport, Maine (PRWEB) November 12, 2014
Internationally recognized outdoor retailer L.L.Bean, best known for its Bean Boot, everyday free shipping and 100% satisfaction guarantee is pleased to celebrate the grand opening of its westernmost retail store at the Park Meadows Retail Resort in Lone Tree, Colorado Friday, November 21 through Sunday, November 23. Everyone is invited to the three-day event featuring giveaways, seminars, a variety of family activities, L.L.Bean's famous Bootmobile and more.
Grand opening event highlights include:

Friday: L.L.Bean Gift Card worth up to $500 to the first 200 customers to come through the door—store opens at 9:00 a.m.
Saturday: Kayak package giveaway worth up to $500 to five lucky winners
Friday, Saturday and Sunday: several outdoor demonstrations and clinics by experts from L.L.Bean's Outdoor Discovery Schools, a Nordic ski simulator, slacklining demonstrations and instruction, gift giveaways, food sampling, free hot cocoa and cookies and plenty of activities and fun for the whole family
In addition, all weekend long, folks can meet L.L.Bean's mascot, L.L.Bear and also have their photo taken with L.L.Bean's famous Bootmobile, a mobile version of L.L.Bean's first and most iconic product, the L.L.Bean Boot.
"Our westernmost store is going to give folks in the Denver area and beyond, many of whom are only familiar with us through our catalog and web site, the ability to touch, see and feel the true essence of our brand in person, just in time for the holiday season," said Ken Kacere, senior vice-president and general manager of retail at L.L.Bean.
As part of its grand opening celebration, L.L.Bean has commissioned renowned Colorado artist Tim Deibler to produce an original painting of Colorado's Mount Adams that will adorn the cover of L.L.Bean's Christmas catalog, one of its largest catalogs, which will be mailed to millions of L.L.Bean customers nationwide. The original piece of artwork will be on display in the new retail store from November 21 to December 19 and during this time customers will have the opportunity to submit their name for a chance to win the painting. The winner will be announced on December 19.
In addition, as part of its celebration into the market, L.L.Bean will be announcing a charitable gift of $15,000 for the noted Denver non-profit organization, Environmental Learning for Kids (ELK). The gift will include a variety of L.L.Bean outdoor gear, as well as a scholarship established by L.L.Bean and ELK that will help get more Denver-area youth engaged in the outdoors and take full advantage of all of the dynamic outdoor recreational resources Colorado has to offer.
The new 13,000 square-foot L.L.Bean store located in the popular Park Meadows Retail Resort will employ approximately 80 people and will feature an assortment of active and casual apparel and footwear, outdoor gear including hiking, fly-fishing, kayaking, and camping products and more. The stand-alone store will have an exterior entrance near one of the mall's key entrances.
This will be L.L.Bean's 22nd retail store outside of Maine and its westernmost store. Last month, L.L.Bean announced two additional store openings at Burlington Town Center in Burlington, Vermont, which opened on November 7 and at the Mall of America in Bloomington, Minnesota, which opened November 14.
For more information about L.L.Bean's Park Meadows store and the grand opening event, visit http://www.llbean.com/parkmeadows.
About L.L.Bean, Inc.
L.L.Bean, Inc. is a leading multichannel merchant of quality outdoor gear and apparel. Founded in 1912 by Leon Leonwood Bean, the company began as a one-room operation selling a single product, the Maine Hunting Shoe. Still family owned, Shawn Gorman, great grandson of Leon Leonwood Bean, was named Chairman of the Board of Directors in 2013. While its business has grown over the years, L.L.Bean continues to uphold the values of its founder, including his dedication to quality, customer service and a love of the outdoors. L.L.Bean products are rigorously tested, guaranteed to last and always shipped free. In the past five years, L.L.Bean has donated over $6 million toward conservation and land stewardship. The 220,000 sq. ft. L.L.Bean retail store campus in Freeport, ME, is open 24 hours a day, 365 days a year and welcomes more than 3 million visitors every year. L.L.Bean can be found worldwide at http://www.llbean.com, Facebook, Twitter, YouTube, Pinterest, Google+ and Instagram.
# # #