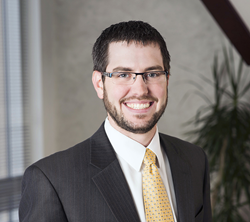 We now have a depth of leadership in the tech practice that reflects Aronson's investment in the space.
Rockville, MD (PRWEB) November 11, 2014
Aronson LLC recently announced the promotion of Alan Langelli to audit partner in the firm's Technology Industry Services Group, effective January 1, 2015. Aronson, a leading provider of innovative accounting and consulting services for the Washington metropolitan region's most active industries, is growing its technology industry practice and developing new ways to invest in their clients' success. By building strong partnerships with technology industry organizations and focusing on growth of that practice area, the company is doubling down on the tech industry.
Managing partner Jeff Capron remarked, "We now have a depth of leadership in the tech practice that reflects Aronson's investment in the space." He continued, "Alan is passionate about technology and venture-backed companies and his work in the market demonstrates that. He not only has strong technical skills, but he's innovative and enthusiastic about his work with clients."
In combination with strategic partnerships with regional technology organizations, the firm views the announcement of Langelli's partnership as yet another example of how they are proactively working with growing businesses to help them succeed. In 2014, the firm partnered with 1776, a startup incubator and seed fund that engineers startups for success by connecting them to the political, intellectual, social and financial capital that makes Washington, DC unique. Aronson has also formed strong relationships with organizations such as BioHealth Innovation, the Northern Virginia Technology Council, and the Mid-Atlantic Venture Association, working with all four organizations to provide accounting and general business and support to members.
As the largest locally owned and operated accounting firm in the region, Aronson's independence, and depth of expertise makes the firm a natural fit within the technology and venture-backed community.
About Aronson LLC | Aronson has been thinking ahead for its clients for more than 50 years. Aronson's construction, real estate, government contracting, nonprofit, technology and private industry experts provide innovative audit, tax, and consulting services that help its clients move to the next level. From start-up to exit strategy, Aronson works with companies throughout the entire business lifecycle by proactively identifying opportunities and addressing challenges so that clients are able to focus on their core business. Aronson shows companies how to rethink everything to be more profitable, more competitive and better prepared for the future.