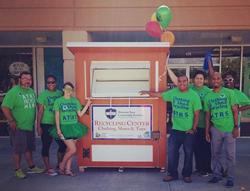 "We are proud of our mission to give unwanted clothing, shoes and all textile materials a second life through recycling," says Gilbert Regalado, ATRS Chief Operating Officer.
Houston, TX (PRWEB) November 10, 2014
Throughout the month of November thousands of organizers will be holding recycling events across the country in celebration of America Recycles Day. Employees and volunteers from American Textile Recycling Service (ATRS) dressed as green fairies and elves will be out in force to support the only nationally recognized day dedicated to promoting and celebrating recycling in the United States.
By volunteering time at events in cities across the country including Atlanta, Houston, Nashville, Orlando and Southern California, ATRS Recycling staffers aim to help their neighbors, families and municipal leaders learn, act and impact diversion rates in their communities.
"I'm just one person," says David Taylor, a Market Manager in Houston, TX wearing a fuzzy green wig and outrageous, oversized glasses. "But by getting out into my city and handing out stickers to kids or organizing an office building clothing drive, I'm helping to reduce the textile waste we throw away and making sure these shoes and garments get a much needed next life."
The company's Pledge2Recycle campaign challenges communities to come out and take the Pledge2Recycle on this day and every day. The average resident generates approximately 70 pounds or more of textile waste per year, and only 15% of it is donated, reused or recycled. A whopping 85% ends up in city landfills. This handy, interactive map showcases ATRS sponsored events and easy, convenient drop off locations.
ATRS will be attending Orange County Recycles Day held on location at the city landfill in Orlando, FL to share the benefits of textile recycling. Shoppers in Nashville, TN will have the opportunity to drop off out of season gear as they browse for new ones as RiverGate Mall. In Southern California, the City of Diamond Bar will be featuring ATRS Recycling options at the Eco Expo to educate community members.
Granger Recycling Center in Lansing, MI, is launching on-site Clothing & Shoe Recycling in partnership with ATRS this month. Through programs like this with Granger, ATRS encourages local residents to make textile recycling routine in their day-to-day lives.
"We are proud of our mission to give unwanted clothing, shoes and all textile materials a second life through recycling," says Gilbert Regalado, ATRS Chief Operating Officer. "America Recycles Day is not only a fun day to meet and greet our neighbors, it's an important day to work with municipalities and environmentally conscious innovators in the recycling industry. Our goal is to move our local communities and our planet towards a greener tomorrow."
To find an event near you or a year-round clothing donation drop off location, call the 24-Hour Hotline 866-900-9308 or visit http://www.atrscorp.com/Pledge2Recycle.
American Textile Recycling Service (ATRS) is the nation's fastest growing textile recycler and proud to be among America's leading companies proudly making America Recycles Day possible. Its socially responsible business model provides free textile recycling solutions for the public, job stimulation worldwide and much-needed funding for worthy local charities. Easy, convenient ATRS recyclers are available throughout Southern California, Atlanta, Orlando, Phoenix, Scottsdale, Tempe and Tucson AZ, San Antonio, Austin, Dallas, Houston, Galveston and Beaumont TX, Michigan, Oklahoma, Colorado and Tennessee. For press inquires contact pr(at)atrsonline(dot)com.