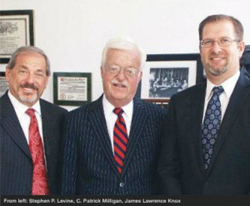 San Bernardino, CA (PRWEB) November 10, 2014
The State of California has recently passed Issue 47, otherwise known as The Safe Neighborhoods and Schools Act of 2014. This act ensures that the most violent criminals and sex offenders will remain behind bars, while those convicted of low-level nonviolent crimes such as petty theft and simple drug possession may see their sentences reduced.
"This is a dramatic change to California law," says James Knox, a partner at the Law Offices of Milligan, Beswick, Levine & Knox. "We can file the necessary petitions to help people who are convicted of felony offenses have their charges reduced, and help people who are facing pending charges ensure any felony allegations are dismissed."
The Safe Neighborhoods and Schools Act maintains the current law for registered sex offenders and those with prior convictions for murder, rape or child molestation. The law authorizes resentencing for anyone currently incarcerated for the lowest level petty theft and nonviolent drug possession. These charges can be reduced from felonies to simple misdemeanors.
Thanks to this Act, law enforcement resources are focused on serious and violent crimes, and the hundreds of millions of dollars saved annually will be redirected toward K-12 school programs, mental health and drug treatment, and victim services.
About Milligan, Beswick, Levine & Knox:
Milligan, Beswick, Levine & Knox is a proven legal team whose number one goal is to help protect the interests of the citizens of San Bernardino, CA and surrounding counties. This experienced legal team has successfully handled cases including: wrongful death, domestic violence, murder, burglary, theft, and drug cases.
Thanks to the passage of Issue 47, these professional, experienced attorneys are ready to work on your behalf to have your sentence lowered or your charged reduced. Let the attorneys at Milligan, Beswick, Levine & Knox advocate for you. Contact the firm today for a free consultation:
Milligan, Beswick, Levine & Knox LLP
323 W. Court Street Suite 402
San Bernardino, CA 92401
(909) 453-4066