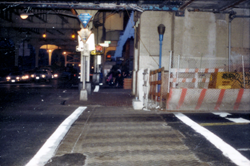 It was uplifting to see our 14 years of hard work pay off, so that Ms. Dyer and her family can no longer have the burden of wondering how her medical expenses would be taken care of
NEW YORK, NY (PRWEB) November 11, 2014
Jeff S. Korek, a personal injury attorney at Gersowitz Libo & Korek, P.C., one of New York's leading personal injury law firms, announced that the firm has resolved a major case dating back 14 years in the amount of $8,025,000. The parties agreed to a settlement after 6 weeks of jury selection and trial.
About the Lawsuit
According to court documents, on April 1, 2000, Paula D. (then 15 years of age), was struck by a van when crossing the street at East 161st Street and River Avenue in the Bronx. At the time of the accident, the New York City Transit Authority (NYCTA) had an ongoing project to renovate the IND and IRT subway and training station in that area. As a result of the van striking Paula's head, she suffered a brain injury that greatly affected her life. Despite her injuries, the victim had three children after the accident.
The personal injury claim was stalled for more than 14 years before Edward H. Gersowitz alleged a construction barricade blocked both the victim and Mr. Gonzalez from seeing each other. Mr. Gersowitz also uncovered that the NYCTA's plan provided that there were to be no obstructions to the sight lines during construction.
According to court documents, after 14 years, the case went to trial at the Bronx Supreme Court before Honorable Justice John Baron. Mr. Gersowitz's partner, Jeff S. Korek, and associate attorney William Hackwelder tried the case [Supreme Court of the State of New York County of Bronx, Index Numbers: 14593/2001]. Jury selection and the trial lasted approximately six weeks before the parties agreed to a settlement in the amount of $8,025,000.00.
"It was uplifting to see our 14 years of hard work pay off, so that Paula and her family can no longer have the burden of wondering how her medical expenses would be taken care of," Mr. Korek said. "We are so relieved she can finally breathe a little easier."
About Gersowitz Libo & Korek, P.C.
The personal injury attorneys at Gersowitz Libo & Korek, P.C. are committed to the relentless pursuit of victim's rights in New York and New Jersey for over 25 years. They urge anyone who has suffered injuries as a result of the negligent actions of another party to contact them immediately.
Contact:
Jeff Korek
Gersowitz Libo & Korek, P.C.
111 Broadway, 12th Floor
New York, NY 10006
(212) 385-4410