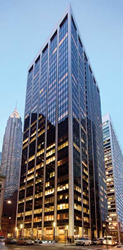 New York, NY (PRWEB) November 11, 2014
CBPartners, a leader in global strategic consulting services to the life sciences industry, has announced plans that it will relocate headquarters in December to Wall Street, in the heart of New York City's financial district.
After almost three years on Water Street, CBPartners is expanding operations to a larger space at prestigious 100 Wall Street. "With this new office space, we can continue the pursuit of our development goals, while providing a more comfortable environment for our consultants and visiting clients," says CEO and Managing Director, Cyrus Chowdhury. The space overlooks the East River, and is ideally situated in an accessible and vibrant district of the city.
Commenting on the decision, Brian Reiver, Director of Leasing of the building's owner Savanna, says, "we believe that the Class A asset quality and tenancy of 100 Wall Street combined with the high-end prebuilts and fantastic light and views make it a highly attractive package to prospective tenants."
"We are excited by the growth potential offered by the new space. We believe that remaining in the financial heart of New York City will continue to allow CBPartners to be a highly-desired firm by top talent in our industry," notes Managing Director, Monica Martin de Bustamante.
CBPartners continues to lead the industry in thought leadership on pharmaceutical and biopharmaceutical issues through its five practices. To learn more about the firm's perspectives and capabilities, please visit http://www.cbpartners.com.
About CBPartners
CBPartners is a leading global strategy consulting firm focusing on healthcare issues for a variety of clients, including biopharmaceutical companies, medical device companies and government health authorities. Headquartered in New York City, CBPartners maintains a continuous throughput of local market intelligence updates from advisors throughout over 75 markets. CBPartners provides expertise through five practice areas including Pricing and Market Access, Value Demonstration, Portfolio Optimisation, Commercial Planning, and Government Policy Advisory.