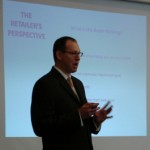 It was clear to Lewis that industry members could greatly benefit from learning how to understand the buyer's perspective, improve collaboration efforts and increase profit.
New York, NY (PRWEB) November 21, 2014
Enhanced Retail Solutions (ERS) was founded with the intent to increase the retail business acumen of suppliers. James Lewis left a position as a buyer at JCPenney in order to bring new insight to industry vendors. Lewis recognized a fundamental shift between retailers and their vendor partners: a new and pervasive demand for more -- more fiscal accountability, better management, higher levels of data translation and better, faster solutions. The ability to quickly and accurately problem solve is a major competitive advantage and ERS has offered just that. It was clear to Lewis that industry members could greatly benefit from learning how to understand the buyer's perspective, improve collaboration efforts and increase profit.
ERS organized a Retail Merchant Class in 2007 open to all members of the industry interested in getting a better understanding of the retail math, retailers' perspective and the constraints buyers work under. The class delves into the best practices of the retailer/supplier relationship. The success of this endeavor pushed ERS to offer more online resources to the market and in 2012 they posted a complimentary Retail Math and Definitions guide as well as information on Sales Curves.
These offerings were so popular that the logical next step was to compile more of ERS' vast wealth of retail expertise, this time all in one place. The Retail Primer eBook was published in August of 2013 and made available both on the ERS company website and Amazon, where it currently boasts a five star rating. As the holidays approach ERS is excited to offer the eBook at a fraction of its list price, asking only $4.99 when using the code tday2014 at checkout.
Sales of the eBook in the past year have included customers from all facets of the industry: major Human Resource departments at US retailers, manufacturers large to small, investment banks, hedge funds, major licensors, and even its competitors have picked up a copy! Within the Primer, James E. Lewis offers specific education and techniques on how to think like a buyer, improve collaboration, and planning to profit. Key topics include:

Understanding a buyer's point of view, expectations and openness to vendor involvement
Looking for opportunities of growth (statistics, retail assortment, demographics)
Making money in today's retail environment
Offering a compelling merchandise statement (why should a retailer buy from me?)
How to present new ideas to the retailer
Retail math and measurement standards
Why tracking the business at store level matters (lost sales, opportunities, inventory productivity)
Understanding forecasting from a retail perspective
Fundamentals of replenishment
Assessing risk on margin guarantees and markdown negotiations – planning to profit
The promotion will run until November 30, 2014. Purchase can be made at Enhanced Retail Solutions.
About Enhanced Retail Solutions LLC:
Enhanced Retail Solutions is a New York based software and consulting firm specializing in Retail Analysis and Demand Planning for the manufacturer and their retail partners. ERS' state of the art software tools and consulting deliver critical data quickly, easily and cost effectively, adding over one hundred million dollars to their clients' bottom line. ERS' broad customer base includes industry leaders in the Electronics, Consumer Products, Apparel, Footwear, Home Textile, Toy, Home Decor, Home Improvement, Housewares and Food Industries. For more information, visit http://www.EnhancedRetailSolutions.com/.