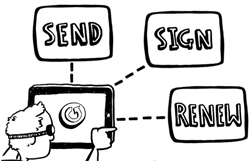 All of our leasing staff agrees. Online Renewals from On-Site is a better experience for our residents.
Campbell, CA (PRWEB) November 17, 2014
Online leasing software provider On-Site.com today made it easier for apartment providers to manage and renew leases online with the company's newly enhanced Online Renewals. Part of On-Site's Resident Passport™ suite of cloud-based resident convenience tools, Online Renewals allows housing providers to track expiring leases and generate renewal offers, which renters can view and accept online without ever having to set foot in the leasing office.
"Thanks to features like revenue management integration, mobile optimization and E-Sign™, Online Renewals is without a doubt the best renewal experience for your renters," said On-Site Director of Products Zeke Kirkpatrick. "By offering a convenient, easy to use online renewal service, you can reduce resident turnover and avoid the upfront marketing cost associated with attracting new residents."
Key features of Online Renewals include the ability to:

View upcoming lease renewals from the renewal dashboard.
Set permissions regarding who can generate renewal offers.
Sync pricing with revenue management software and keep pricing competitive as market conditions change.
Give your staff the flexibility to negotiate with customizable lease term parameters.
Collect signatures for the renewal lease anywhere, anytime on any device with E-Sign™.
Vancouver-based apartment owner/operator Holland Residential served as a beta-tester for the enhanced Online Renewals product and had a hand in the product's development.
Prior to using Online Renewals, Holland relied on time-consuming offline renewal processing. A typical renewal that involved calling the resident, preparing and delivering the offer letter, multiple follow up calls and an in-person lease signing ceremony.
In contrast, On-Site's Online Renewals is engineered for ultimate ease-of-use, requiring less work and reducing the overall time Holland's team spends processing renewals.
"All of our leasing staff agrees. Online Renewals from On-Site is a better experience for our residents," said Holland Residential Director of Revenue Management Bryan Pierce.
With Online Renewals the process starts with leasing staff reviewing upcoming lease expirations from the renewal dashboard and drafting the renewal offer.
"Because Online Renewals works with the property management software you already have in place, the information for the renewal is automatically imported from the existing lease," said Kirkpatrick. "Add in available pricing optimization from your revenue management software and the lease practically generates itself."
From there renters can securely access their lease renewal online, review available offers and select the offer they like best.
After accepting a renewal offer, renters can e-sign the renewal at their convenience using any smartphone, tablet or computer.
Online Renewals and the entire Resident Passport suite are optimized for mobile devices.
"We've always believed that the best residents are the ones you already have," said Kirkpatrick. "With Online Renewals it's now easier than ever to keep them."
Learn more at: http://www.on-site.com/renewals.
About On-Site
Founded in 1999 with technology and service 100% based in the U.S., On-Site is bringing the apartment industry up-to-speed with what today's consumer expects from the renting experience: modern technology and a focus on usability. On-Site's end-to-end platform covers everything from community marketing and renter qualification to lease contract generation with e-signatures and online storage. Plus integrated communication hubs to drive resident retention after move-in. The result is a simplified rental experience that leads to greater customer satisfaction and translates directly to the positive side of the balance sheet. For more information about On Site's leasing solutions, visit http://www.on-site.com or contact one of On-Site's online leasing experts at (855) 667-6500.