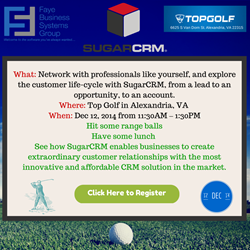 Washington D.C. (PRWEB) November 11, 2014
SugarCRM enables businesses to create extraordinary customer relationships with the most innovative and affordable Customer Relationship Management solution in the market. Recognized by leading market analysts as a "visionary" company, Sugar is deployed by over 1.5 M individuals in 120 countries and 26 languages.
Beltway-area professionals are invited to attend a free golfing and networking lunch at Top Golf in Alexandria, VA on Friday, December 12 from 11:30AM – 1:30PM. Meet like-minded professionals, have some lunch, hit some range balls and see Sugar in action, as executives from Faye Business Systems Group and SugarCRM walk through the life-cycle of a customer in Sugar.
Sugar's innovative CRM system is designed for every individual who engages with customers: sellers, marketers, customer support agents, receptionists, and executives. SugarCRM offers a completely transformed, individualized CRM user experience that is immersive, engaging, and intuitive. Sugar fuses the straightforward simplicity, mobility, and social aspects of a consumer app with the business process optimization of conventional CRM.
About the Speakers
David Faye, CEO, Faye Business Systems Group
David is an entrepreneur with broad experience in building businesses and helping businesses grow primarily through the effective use of information technology. As CEO of Faye Business Systems Group, David founded an innovative software company specializing in implementation, development, and support relating to cloud based Accounting, ERP, and CRM Software. David has extensive expertise in SugarCRM, Sage 100 ERP, Atlassian, NetSuite and the development of custom software.
Joshua Estes, Regional Sales Manager, Faye Business Systems Group
Joshua Estes is the Regional Sales Manager at FayeBSG. He is well versed in the CRM universe and understands the various complexities that businesses have when looking to implement new systems. Joshua prefers to focus on understanding client needs and collaborating together to find a solution through best practices. Joshua loves to get to know the people he is around.
Margie Archer, Inside Sales, SugarCRM
Margie brings a vast amount of business process experience to her customers, benefitting them in analysis and finding the best fit for their needs within SugarCRM's platform. Educated in Business and Psychology, she is well prepared to be sensitive to the needs of all departments when a company is considering a CRM project. Not much of a Top Golfer—much better at CRM but always up for a lot of fun!
ABOUT SUGARCRM
SugarCRM enables businesses to create extraordinary customer relationships with the most innovative and affordable customer relationship management (CRM) solution on the market. By placing the individual at the center of its solution, SugarCRM is putting the "i" in CRM and empowering people at all levels of an organization to better understand and engage with customers. Based in Silicon Valley, SugarCRM is backed by Goldman Sachs, Draper Fisher Jurvetson, NEA, and Walden International. More than 1.5M individuals in over 120 countries rely on SugarCRM. To learn more visit SugarCRM or follow @SugarCRM.
ABOUT FAYE BUSINESS SYSTEMS GROUP
FayeBSG integrations allow companies to utilize best-in-class software without missing out on critical integration components. A 2014 Inc. 5000 Honoree, FayeBSG are software and technology specialists with extensive expertise in CRM and ERP software. A long time SugarCRM and Sage Platinum Partner, Faye's in-house team of developers and consultants work on an ongoing basis to not only develop the most sought after integrations, but also to consistently upgrade and update integrations for optimal performance, and to add user requested features. Their integrations are well thought-out and consist of the most complete operational functions.
FayeBSG uses SugarCRM, Sage 100 ERP (formerly MAS 90), NetSuite, and a variety of custom software solutions to meet client needs. Services include software development, project management, packaged software implementations, custom software implementations, integration, consulting, training, and support. Faye Business Systems Group has completed hundreds of successful CRM and ERP projects, specializes in Sugar Integrations, and is one of SugarCRM's leading North American Platinum Partners. For more information, call (818) 280 - 4820, email info(at)fayebsg(dot)com, or visit http://www.fayebsg.com.