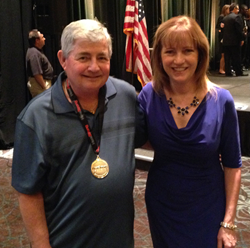 My hearing devices allow me to be more independent!
Las Vegas, NV (PRWEB) November 11, 2014
On November 8, the HearStrong Foundation celebrated Jim Hogan, a veteran of the U.S. Navy, as a HearStrong Champion alongside representatives of EarQ, the foundation's main sponsor, during a special ceremony at the 2014 Academy of Doctors of Audiology (ADA) Convention in Las Vegas.
"Today, roughly 60% of veterans returning from Iraq and Afghanistan have some degree of hearing loss," said Ed Keller, founder of the HearStrong Foundation. "By recognizing Jim for his incredible accomplishments, we hope to inspire other veterans to seek the hearing solutions they need to help them reconnect to the people and things that matter most."
Nominated by Audiology Associates of Santa Clarita, CA, Hogan was diagnosed with hearing loss as a young boy and quickly began utilizing hearing devices. Determined to fulfill his dream of serving his country, Hogan enlisted in the Navy following his graduation from high school in 1966. After serving four and a half years in Vietnam combat areas, Hogan re-entered civilian life in 1973.
Ten years later, Hogan was diagnosed with Ushers II, a degenerative disease that causes vision and hearing loss. Never one to be held back, he continued to enthusiastically maintain his active lifestyle.
"My wife and I camp, bike, hike, enter parades and attend concerts," said Hogan. "My hearing devices (and guide dog, Atticus) enable me to be more independent!"
To learn more about Jim, click here.
About the HearStrong Foundation:
The HearStrong Foundation is a 501(c)(3) not-for-profit organization that seeks to shatter the stereotypes surrounding hearing loss and its advanced solutions by honoring the accomplishments of those who have overcome hearing loss and inspire others to do the same. Supported by the dedication of EarQ providers, the foundation is a worldwide advocate for hearing loss awareness, education and support. For more information about the foundation, or to nominate a HearStrong Champion, please visit hearstrong.org or contact:
[email protected]
Like us on Facebook
Follow us on Twitter
About EarQ:
A strategy and consulting firm that supports hearing healthcare providers nationwide, EarQ utilizes innovative business and marketing practices and national public awareness efforts to advocate for excellence in private patient care. Through its 1,400 hearing healthcare provider locations nationwide, EarQ helps provide greater access to quality hearing healthcare services and products.
http://www.earq.com
Like us on Facebook
Follow us on Twitter