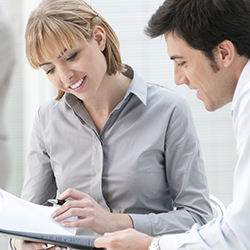 (PRWEB) November 12, 2014
SkillPath Seminars, the nation's premier business skills training resource since 1989, is excited to announce a brand-new local training event to benefit both experienced managers and up-and-coming supervisors alike. Essential Communication and Writing Skills for Supervisors and Managers is a two-day workshop focused on teaching managers and supervisors how to connect confident speaking skills with effective writing skills to convey their message with authority, power and credibility—no matter the situation.
In a lively, entertaining and interactive two-day presentation, participants will learn how to choose the right medium for their message, convert one type of communication to another and tailor every interaction to the specific situation. The payoff is huge! The skills taught in this workshop will enable managers to avoid embarrassing mistakes … develop a keen awareness for people's needs … master the art of concise speaking and writing … read a room and adapt their approach … and stand out as a decisive, influential and authoritative leader.
A recent seminar attendee had this to say about his SkillPath experience: "I enjoyed the workshop immensely. The conversation was relevant and rich in content. The presenter did an excellent job of orchestrating the group dynamic to encourage participation and sharing of knowledge and experience." That same winning formula will be on display in this new, exciting course—and it's now taking local enrollments.
SkillPath rose to the top of the training industry by providing top-quality courses that tackle today's hottest workplace issues. Essential Communication and Writing Skills for Supervisors and Managers again breaks the mold—addressing specific challenges managers face on a daily basis and giving solutions to each scenario. From getting buy-in on new ideas, to communicating policy changes to employees, to handling hiring duties, to working in a virtual environment and more, this class delivers techniques that merge all of a person's communication resources, including written and verbal skills.
Supervisors, managers and team leaders at any level will enjoy the chance to get away from their hectic schedules and invest time in their future, refreshing their skillset and recharging their batteries—two days full of fun and facts led by a business communication expert with a distinguished track record of real-world success.
Another seminar participant said it best: "I always leave a SkillPath training session with a fresh outlook on my job. It's like New Year's Day … you get to start fresh again!"
The cost of this two-day course is $399. Enrollment can be done by phone, e-mail or on-line. To sign up for classes or for more information on Essential Communication and Writing Skills for Supervisors and Managers, see http://www.skillpath.com. SkillPath also offers local seminar updates and special e-mail only discounts at http://www.skillpath.com/?emr.
About SkillPath Seminars:
SkillPath provides practical, convenient training opportunities for businesspeople who are ready to retool and recharge their professional careers. SkillPath's unique brand of training enhances skills, saves time and money and contributes to career and organizational success. SkillPath's public seminars, customized on-site coursework and take-away training resources keep careers on the grow. With more than 10 million people trained since 1989—at Fortune 500 corporations, small businesses, government agencies and not-for-profit organizations—they promise a great learning experience at each workshop or training conference. Their 100% money-back guarantee is proof of their commitment to everyone's success.