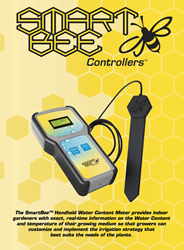 "The SmartBee Handheld WCM gives indoor gardeners the ability to accurately measure water moisture retention and dry-down rates."
Las Vegas, NV (PRWEB) November 12, 2014
Swarm Technologies LLC announced that its SmartBee Controllers™ Group today launched a Handheld Water Content Meter (WCM) that allows hydroponics growers a new tool to accurately measure grow media moisture levels as a percent of saturation from 0% to 100% with 1% resolution and 2% accuracy. Additionally, the SmartBee™ Handheld WCS measures substrate temperature from 35°F to 105°F. The size of the handheld unit is 6.5" x 3.25" x 1.25" and weighs just 7.6 ounces for easy usage. The Polymer Li-ion battery delivers over a month of power and is rechargeable. The SmartBee Handheld Water Content Meter assists the hydroponics grower to control their dry-down so that plants are not too hydrated and not too dry.
The SmartBee™ Handheld WCM delivers highly accurate real-time water content measurement which is critical for growers who want to use precision irrigation tools to achieve optimal yield and quality. This allows growers to customize and implement an irrigation strategy that best suits the needs of the plants. The system includes a Li-Ion battery with a USB charging port for extended use. Additionally, the SmartBee™ Handheld WCM has an LCD dot-matrix display, user calibration and a low-battery indicator for ease-of-use.
According to Skye Hanke, Chief Product Officer with SmartBee Controllers™, "Over-watering and under-watering is the most common reason for plant stress, leading to crop loss. The SmartBee™ Handheld WCM offers a cost-effective tool to indoor gardeners for irrigation efficiency, increased Return-On-Investment and its good for the environment."
The SmartBee™ Handheld WCM retails for $395.00 and includes one SmartBee™ Water Content Sensor Probe. Additional sensor probes retail for $99.00 each or a probe five-pack for $445.00.
The SmartBee™ HandheldWCM is available for ordering now on the SmartBee Controllers™ website at http://www.smartbeecontrollers.com or soon at grow stores throughout the U.S. The Company will begin shipping December 12th. To become a SmartBee™ Authorized Retailer, visit the SmartBee Controllers™ website and click on the Dealer Sign Up button.
About Swam Technologies LLC
Swarm Technologies LLC is headquartered in Las Vegas, NV. The company is committed to designing, manufacturing and delivering the most advanced and highest quality wireless sensor technology for the hydroponics and other markets. Swarm Technologies LLC is a privately-held company.