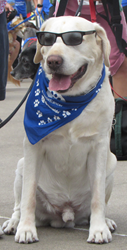 Brea, California (PRWEB) November 11, 2014
Hundreds of dogs had their day, as they accompanied their owners on the shores of Long Beach, Calif. to raise money to cure pet cancer. On Nov. 9, Veterinary Pet Insurance (VPI), the nation's first and largest pet insurer, hosted the 8th annual VPI K9K Pet Cancer Awareness Walk to benefit the Animal Cancer Foundation (ACF), a non-profit organization dedicate to finding a cure for pet cancer by funding research in comparative oncology, the study of naturally occurring cancers in pets and people. Since 2007, VPI, a Nationwide company has raised more than $230,000 to benefit the ACF.
Attendees and their dogs walked nearly two miles in Long Beach near Shoreline Village Lighthouse and Peninsula, with many participating in honor of past or current pets stricken with the number one disease related killer of dogs and cats in the United States.
"Along with the hundreds of thousands of dollars raised over the past eight years, our partnership with VPI has enabled the Animal Cancer Foundation to generate public awareness about the number one disease-related killer of dogs in the United States," said Barbara Cohen, executive director, ACF. "This year's Long Beach K9K was another success, and we are honored to further our joint commitment to raise funds that are used to develop and support comparative oncology research that advances the prevention and treatment of cancer for people and pets."
In addition to the funds raised at the Long Beach VPI K9K, VPI will donate $5 to the ACF, up to $10,000, for every photo, story or statistic shared on Twitter, Instagram and Facebook using #CurePetCancer. For more information, visit http://www.curepetcancer.com.
"Cancer continues to be a prevalent danger for pets. We received 8,000 more cancer-related claims in 2013 compared to 2012, marking a 12% increase," said Dr. Carol McConnell, DVM, MBA, Vice President and Chief Veterinary Medical Officer for VPI. "However, with advances in the treatment of pet cancer, there are an increasing number of options. Pet owners can fight back by detecting any changes in their pet at home and learning about financial options for cancer-related medical expenses."
About Veterinary Pet Insurance
With more than 500,000 pets insured nationwide, Veterinary Pet Insurance Co./DVM Insurance Agency (VPI) is a member of the Nationwide family of companies and is the first and largest pet health insurance company in the United States. Since 1982, VPI has helped provide pet owners with peace of mind and is committed to being the trusted choice of America's pet lovers. VPI Pet Insurance plans cover dogs, cats, birds and exotic pets for multiple medical problems and conditions relating to accidents, illnesses and injuries. Wellness coverage and routine care is available for an additional premium. Medical plans are available in all 50 states and the District of Columbia. Additionally, one in three Fortune 500 companies offers VPI Pet Insurance as an employee benefit. Policies are offered and administered by Veterinary Pet Insurance Company in California and DVM Insurance Agency in all other states. Underwritten by Veterinary Pet Insurance Company (CA), Brea, CA, an A.M. Best A rated company (2012); National Casualty Company (all other states), Madison, WI, an A.M. Best A+ rated company (2012). Pet owners can find VPI Pet Insurance on Facebook or follow @VPI on Twitter. For more information about VPI Pet Insurance, call 800-USA-PETS (800-872-7387) or visit petinsurance.com.
About Animal Cancer Foundation
Animal Cancer Foundation (ACF) is a nonprofit organization dedicated to finding a cure for cancer by funding research in and increasing public awareness of comparative oncology, the study of naturally occurring cancers in pets and people. ACF provides research grants to medical and veterinary oncology professionals studying comparative oncology models. ACF does not fund studies that would induce cancer in pets. Clinical trials are offered to pet owners in their local oncology practices. ACF serves as a preeminent resource in educating the public and scientific communities to the value of the comparative oncology model not only to discover valuable new ways to treat cancer in pets, but that these advances may lead to more effective, less toxic therapies for people.