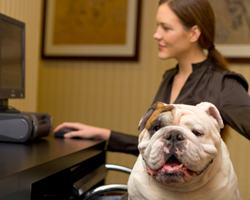 We think our staff can do their best when they have the companionship and support of their animals.
San Francisco, CA (PRWEB) November 12, 2014
More and more studies have illustrated the benefits of employees bringing their pets to work, from reducing stress to increasing productivity. For the psychological, economic and just plain practical bonuses that pets in the workplace can offer, vegan cosmetics company Zion Health has decided to have an open-door policy for employee pets.
"We understand that the human-animal bond is a real thing," said Zion Health Co-Founder Marie Holmes, "and we think our staff can do their best when they have the companionship and support of their animals, as well as their bosses."
Clinical research has demonstrated time and again that being in the presence of animals can be calming and therapeutic. A 2002 study by Psychosomatic Medicine tested pet owners with a stressful math test, and found that they had reduced stress, lower resting heart rates and made fewer errors with their pets in the room.
Having pets allowed at the workplace also offers indirect social benefits. Employees often find themselves interacting more with animals around; coworkers stop by cubicles to say hi to a furry friend and sometimes animals break tension by being adorable, or even hilarious.
"I remember when we were having an intense staff meeting, and things were getting a little heated," said Zion Health Sales Representative Mike Shimizu. "That's when my shitzu Sumo decided to walk into the room and start rolling on the floor like a nut. That little spaz brought the mood up without even realizing it."
Taking a dog for a walk in the middle of the work day also helps to relieve feelings of isolation and anxiety, according to the British Journal of Psychology.Two studies in 2000 found that people were much more likely to have social interactions with strangers when a dog was present – even if the dog was trained to ignore people.
Of course, being able to bring your pet to work also says a lot about your employer. Many employees in studies have felt increased organizational support knowing that their bosses accepted their pets. In 2012, a pets allowed study at Virginia Commonwealth University concluded that dogs in the workplace lift morale and increase cooperation.
"Pet presence may serve as a low-cost, wellness intervention readily available to many organizations," said Richard Barker, PhD and author of the study. "[Open pet policies] may enhance organizational satisfaction and perceptions of support."
The leadership of Zion Health has decided to introduce a Bring Your Pet To Work Day, when all animals from bulldogs to goldfish are welcome. The goal of this new pets allowed policy is to reduce stress and promote a positive work environment. Employee's animals will be allowed to safely roam around and interact, much to everyone's delight.
Zion Health provides its consumers with pure skin and body care products utilizing the unique ingredient of Calcium Montmorillonite Clay (Ancient Clay). All zion products are vegan, free of parabens, and formulated using certified organic ingredients whenever possible. For more information on Zion Health products, go to http://www.zionhealth.com.