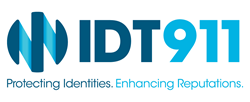 SCOTTSDALE, Ariz. (PRWEB) November 12, 2014
The Identity Theft Resource Center, a nonprofit organization dedicated to the understanding of identity theft and related issues, announced today that Matt Cullina, CEO of IDT911™ (IDentity Theft 911®), will serve as secretary on its Board of Directors. Cullina, nationally recognized as a champion on issues related to child identity theft, brings a wealth of knowledge and experience to the ITRC Board, as well as the support of his organization. IDT911 is a leader in data risk management, breach response, resolution and education services that provides services to more than 56 percent of American consumers every year.
During the past year, IDT911 and ITRC have been partnering in a number of ways, including the financial support of the ITRC Breach List and supplemental reports. This support has allowed the ITRC Data Breach list to continue to be identified as one of the leading sources of information on U.S. data breach incidents. In a larger capacity, IDT911 will be supporting ITRC with victim resolution assistance.
Although most of his philanthropic work has centered on child related identity theft, Cullina is excited to help a larger number of people through his role on the ITRC Board. He says, "We want to use our expertise in the identity theft space to support our charitable giving program, and also serve those affected by the number one crime in America – identity theft. We have partnered with ITRC to deliver high impact resolution services around the clock, as well as proactive education to consumers about the risks of identity theft."
Cullina has achieved significant success in his work helping vulnerable populations with identity theft issues. He was recognized in Washington, D.C. by Congressman Jim Langevin (D-RI) for his work in helping identity theft victims, and received a Communitas Award for his work in helping protect foster youth from identity theft. He is a frequent speaker on identity theft topics, and has participated in numerous industry conferences, including an FTC forum on child identity theft issues.
IDT911 fraud center investigators assist countless victims each day, providing a compassionate ear and comprehensive resolution services to consumers affected by identity theft. During the past decade, fraud center investigators have seen various types of identity theft as life moves to a more digital world, including tax, government benefits, medical, and financial related identity theft. Armed with this knowledge, Cullina will be able to advise the Board on any emerging trends, as well as offer proactive assistance to help avert an identity theft issue.
"Matt's involvement and dedication in child and foster youth identity theft issues earned him the prestigious Communitas Award, which recognizes individuals for excellence in community service and corporate social responsibility," said Julie Fergerson, ITRC Board Chair. "He is bringing this same level of dedication to helping the ITRC to further build on its existing programs to assist and educate victims and consumers nationwide," Fergerson added.
About the ITRC
Founded in 1999, the Identity Theft Resource Center® (ITRC) is a nationally recognized non-profit organization which provides victim assistance and consumer education through its toll-free call center, website and highly visible social media efforts. It is the mission of the ITRC to: provide best-in-class victim assistance at no charge to consumers throughout the United States; educate consumers, corporations, government agencies, and other organizations on best practices for fraud and identity theft detection, reduction and mitigation; and, serve as a relevant national resource on consumer issues related to cybersecurity, data breaches, social media, fraud, scams, and other issues. Visit http://www.idtheftcenter.org. Victims may contact the ITRC at 888-400-5530.
About IDT911™ (IDentity Theft 911®)
Founded in 2003, IDT911™ is the nation's premier consultative provider of identity and data risk management, resolution and education services. The company serves more than 18.5 million households across the country and provides fraud solutions for a range of organizations, including Fortune 500 companies, the country's largest insurance companies, employee benefit providers, banks and credit unions and membership organizations. A subsidiary of IDT911, IDT911 Consulting™ provides information security and data privacy services to help businesses avert or respond to a data loss incident. Together, the companies provide preventative and breach response services to more than 770,000 businesses in the United States, Canada and the United Kingdom. IDT911 is the recipient of several awards, including the Stevie Award for Sales and Customer Service and the Phoenix Business Journal Tech Titan award for innovation in breach and fraud-fighting services. The company is the organizer of the Privacy XChange Forum, an annual conference that brings together high profile privacy thought leaders. For more information, please visit http://www.idt911.com, http://www.idt911consulting.com, http://www.facebook.com/idt911 and http://www.twitter.com/idt911.