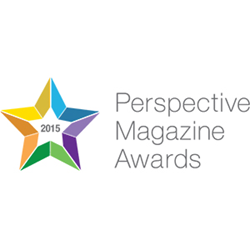 Orlando, Florida (PRWEB) November 11, 2014
The fifth annual Perspective Magazine Awards program has officially launched, offering opportunities for vacation ownership companies and individuals to win one or more of the 35 accolades available in the 2015 program.
Perspective Magazine is the leading independent trade publication globally for the vacation ownership industry, read by middle and senior level executives worldwide since 2005. The highly coveted recognition that this awards program offers has seen regular expansion of award categories and increases in nominees.
The Perspective Magazine Awards Program is the only recognition platform in the timeshare industry that is judged by both a panel of experts and industry peers. Four industry expert judges are chosen – none of whom know who each other are until after all votes are cast, so voting is based on individual opinions. Each judge accounts for 20% of the overall outcome for each nominee. The remaining 20% comes from thousands of industry professionals who vote online for their favorite entrants. This combination of a judging panel and online voting not only creates incredible exposure for the nominees but also provides the most independent results of any other awards program, thereby making winning a Perspective Magazine Award, one of the most desired accolades available to a timeshare industry company or individual.
Winners will be announced in front of an audience of senior level executives at the Global Networking Expo (GNEX Conference) being held from 15-18 February 2015 at the Manchester Grand Hyatt, San Diego, California.
Also celebrating its 5th Anniversary, the Global Networking EXpo (GNEX Conference) is expecting to continue its year on year record-breaking attendance, comprising of senior level executives from more than 100 companies with representation from almost all major timeshare markets around the world. Dubbed "The Global Meeting of Minds", this winning conference platform has so far delivered some of the most open dialogue between industry leaders in recent history, helped to create countless new business relationships and strategic partnerships, and continues to have its unique format lead the way in how to really get value from a timeshare conference, through its focus on carefully planned networking events and creation of an interactive, collaborative environment.
For more information and to enter a nomination for Perspective Magazine Awards visit http://perspectivemagazine.com/gnex/awards2015
For more information on GNEX 2015 Timeshare Leaders Conference visit http://perspectivemagazine.com/gnex
About Perspective Group
Perspective Group has been a pioneer of the modern vacation ownership industry since its formation in 2003, from the creation of the largest independent trade publication globally, to the now highly revered annual Global Networking Expo (GNEX Conference) that attracts more than 200 senior level executives from over 110 companies worldwide. The company infuses 20 years of vacation ownership sales and marketing experience into all of its products and services and is consistently investing in the development of new and innovative brand marketing strategies for its clients. In 2013 it unveiled INTUITION - a diverse collection of Brand Marketing, PR & Advertising based programs that includes social media monitoring, online reputation management, competitive analysis, customer engagement programs. Most recently Perspective Group became the only TripAdvisor Official Partner currently serving the vacation ownership industry, providing its INTUITION clients with a series of valuable review collection tools.
For more information visit http://www.intuitionbyperspective.com