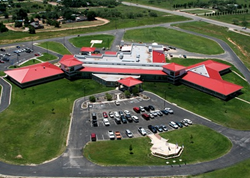 "We are excited about working with Mitchell County Hospital District as they build their Information Exchange Ecosystem," said Mike McGuire, CEO of Holon Solutions
ALPHARETTA, GA and COLORADO CITY, TX (PRWEB) November 11, 2014
Holon Solutions announced today that Mitchell County Hospital District has implemented the CollaborNet™ Health Information Exchange (HIE) solution as the first step in facilitating improved referral processes, care coordination and patient engagement.
Initially, Mitchell County Hospital District will use Holon's CollaborNet HIE software and Endpoint Appliance (EPA) hardware to enable one-click electronic patient referrals by physicians to the Texas Tobacco Quitline, a 24-hour, 7-day-a-week service that offers free phone counseling sessions, classes and nicotine replacement therapy to help Texans kick the tobacco habit.
"One of the cornerstones of our hospital is to promote lifelong wellness in our community," said Mitchell County Hospital District Chief Executive Officer Robbie Dewberry. "We see this as an opportunity to support our community by promoting patient engagement and healthier lifestyles. It is also another step in our effort to improve our patients' care through collaboration with their care team outside of our facility."
Earlier this year, the Texas Tobacco Education, Cessation and Community Coalition program partnered with Holon to implement an affordable HIE that eliminates the need for costly interfaces between Quitline's tobacco cessation system and the various electronic health record (EHR) systems used by healthcare organizations and physician practices throughout the state.
"We are excited about working with Mitchell County Hospital as they build their Information Exchange Ecosystem," said Mike McGuire, CEO of Holon Solutions. "We also welcome the opportunity to support their efforts to promote healthy living in their community with greater access to smoking cessation programs as a result of this HIE initiative.
Mitchell County Hospital District plans to use Holon's HIE solution to connect with other area healthcare providers. The District was introduced to Holon's CollaborNet HIE solution through its membership in the Texas Organization of Rural & Community Hospitals (TORCH).Holon and TORCH have teamed up with the goal of connecting 155 communities of care across the state of Texas.
Thus far, Holon has deployed its CollaborNet software and EPA hardware at eight hospitals and 21 clinics across the state of Texas.
"At Holon Solutions, we are committed to providing HIE solutions that are available, accessible and affordable to every healthcare organization – rural and urban, large and small, resource-rich or resource-poor – across the continuum of care," McGuire added.
ABOUT MITCHELL COUNTY HOSPITAL
Mitchell County Hospital District (http://www.mitchellcountyhospital.com/) includes a 25-bed critical access hospital (CAH) in Colorado City, Texas, licensed by the Texas Department of Health; an emergency medical service; a rural health clinic; a specialty clinic; and a 49-bed skilled nursing home. The District provides excellence in healthcare and promotes lifelong wellness in the communities that it serves. It aspires to be the premier choice in health care by holding to their mission of "the right thing every time for every patient."
ABOUT TORCH
Texas Organization of Rural & Community Hospitals (TORCH) (http://www.torchnet.org) is an organization comprised of rural and community hospitals, corporations, and interested individuals working together to address the special needs and issues of rural and community hospitals, staff, patients, and communities they serve. TORCH's mission is to be the voice and principal advocate for rural and community hospitals in Texas, and to provide leadership in addressing the special needs and issues of these hospitals.
ABOUT HOLON SOLUTIONS
Holon's health information exchange (HIE) solutions help hospitals, health systems and rural providers facilitate a collaborative care environment by providing access to information at the point of care – without forcing anyone on the care team to change current systems or processes. For more information, visit http://www.holonsolutions.com, call 678-324-2060, or connect with Holon on Facebook, LinkedIn, Twitter or YouTube.
Media Contact:
Sheryl Roehl
Director of Marketing
Holon Solutions/SNAPS
678.324.2008
sroehl(at)holonsolutions(dot)com