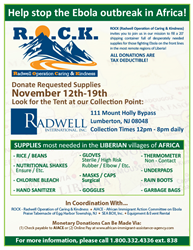 Lumberton, NJ (PRWEB) November 11, 2014
Radwell International, Inc. and its outreach program brings local companies and the community together to help fight Ebola.
As you are aware, the outbreak of Ebola has crossed the boundaries of Africa and has become a worldwide concern. We were recently given the opportunity to partner with AIACE (African Immigrant Action Committee on Ebola) to combat this deadly virus in the remote areas of Liberia through medical and food rations that they would otherwise be without. Quarantines are being broken due to the lack of food which endangers all of us. A bag of rice and a portion of beans can make all the difference.
Radwell is reaching out to the community and our friends, to meet the challenge of filling a 20 foot shipping container that will be placed in our parking lot from November 12th until the 19th. A tent has been placed near Radwell's entrance to accept all donations between the hours of 12 PM and 8PM.
So we are asking you to reach out to your family, friends, organizations, churches and neighbors to make this drive one worth remembering.
Our address is:
111 Mount Holly Bypass
Lumberton, NJ 08048
For more information please call 1.800.332.4336 ext 838
http://www.radwell.com
http://www.african-immigrant-assistance-agency.com
Thank you for your continued generosity and support.