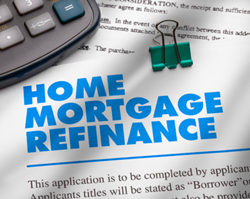 Be responsible with paying the bills and maintain a good record of making payments on a weekly vs monthly basis.
Chicago, IL (PRWEB) November 11, 2014
With expectations for the Federal Reserve to raise its benchmark interest rates in 2015, Peoples Home Equity knows that existing homeowners may be eager to refinance. The following are a number of helpful tips compiled by Peoples Home Equity regarding refinancing.
Don't Wait: For those reading this release, chances are refinancing is being considered, and why not? Refinancing saves money! For those thinking to refinance, one should be prepared, do not hesitate, and just apply! For current homeowners that still waiting to see a marginal decline in mortgage rates remember, the only way to quickly take advantage of a quick drop in rates is to be pre-approved to refinance a loan. Please note, the probability of mortgage rates descending further is highly unlikely when in the current environment of rising employment and wages and with the Federal Reserve planning to raise rates in the future.
Make Sure The Credit Score Is Good: A lender may be unwilling to offer a better rate when the applicant's financial history has changed for the worse since they took on their fixed rate mortgage. Be responsible with paying the bills and maintain a good record of making payments on a weekly vs monthly basis. Lenders like to see consistency, and only a small portfolio of total available credit used, like up to just 25%. Also, double check that your credit scores are up-to-date and accurate, credit agencies make mistakes. One common mistake a credit agency makes is to show the balance and payment history of another person's credit card that he or she was authorized to use as a secondary user. If the primary user of the credit card has a high balance this may severely affect ones score without even knowing why until they check their score report. Thus, take the time to double check the credit report before applying to refinance a loan.
Consider Also Changing The Duration Of The Loan: If income has risen or the idea of paying interest is bothersome, consider shortening the duration of the loan. Apart from refinancing to a lower interest rate, changing the length of time on the loan can save thousands!
Remember The Lender Trying To Help: When considering refinancing a loan, remember that the lender knows that the applicant will not accept the new terms unless there are advantageous to the new financial conditions of the lien holder. To ensure absolute satisfaction with refinancing a loan, be sure to address all your needs to the loan officer.
Contact a Peoples Home Equity loan officer today at: 262-563-4026