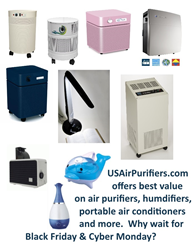 To help our customers enjoy their holidays more, save more money, and have less stress, we are offering our Black Friday & Cyber Monday specials early.
Peoria, IL (PRWEB) November 13, 2014
USAirPurifiers.com helps customers avoid the rush, save money, reduce stress, and enjoy the holidays by offering Black Friday, Small Business Saturday, and Cyber Monday specials early on air purifiers, humidifiers, and more. USAirPurifiers.com features top of the line air purifiers, stylish humidifiers, portable air conditions with and without heaters and much more. With a 5 star customer rating and A+ Better Business Rating, it is obvious that the owners keep their customers' needs as a top priority.
When Barb Lulay, owner of USAirPurifiers.com, was asked why release the specials early, her response was "it is what is best for our customers. Everyone is busy and trying to save money especially around the holidays. By releasing the Black Friday and Cyber Monday sales early, our customers will have more time with family around the holidays, be less stressed, and enjoy high quality air purifiers at a great value. Everyone wins."
From speaking with Lulay, we understand that they plan to rotate sales to best accommodate all shoppers. When asked what she felt was the hottest product this year, Lulay responded, "Our maintenance free air purifiers like Airfree and Vortex desk lamp and the humidifiers especially the pig. These sell especially well around the holidays because they are great gifts for virtually everyone and aesthetically attractive too."
The larger residential air purifiers like NQ Clarifier, Blueair 603 and Austin Air are perfect gifts for the home too because they can purify even up to 1500 square feet from dust mites, pet dander, VOCs, odors and gases too. Small investment for healthier air for your family especially since indoor air can be up to 5 times worse (unhealthier) than outdoor air according to Environmental Protection Agency.
Since everyone's needs are different, Lulay stated that they do have a best seller list and she will be changing the specials periodically to touch on each person's needs through this holiday season.
About the company:
Barb and Dick Lulay's customers are passionate about reducing their risk of disease. Their customer service and product expertise make shopping with http://www.USAirPurifiers.com and http://www.OttersDream.com an ideal experience. With a full line of natural products such as air purifiers, natural supplements, green cleaners, weight management and paraben free skin care, families find they can conveniently do their household shopping online with home delivery. As successful business owners, the Lulays offer a mentoring program for other aspiring entrepreneurs. They present exceptional marketing tools and a training program that shows how to generate immediate income as well as long term passive income.