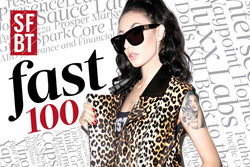 San Francisco, CA (PRWEB) November 11, 2014
The San Francisco Business Times, the premier publication of business news in the San Francisco Bay Area, named Six Spoke Media, a performance-focused, global digital advertising agency, #18 on its 2014 Fast 100 list of the 100 fastest growing privately held companies in the Bay Area.
Additionally ranked on the 2014 Inc. 500|5000 list, the Six Spoke Media executive team also formally accepted its award at the Inc. 500 conference, held recently in Phoenix, Arizona, as #369 on Inc.'s list of the fastest growing private companies across the country.
Six Spoke Media CEO, Edward Kim, "It's such an honor to be recognized amongst such an esteemed list of companies. The honor locally is especially sweet given that we're in the Silicon Valley, where so many amazing companies are born."
As a nod to Six Spoke Media's software arm and its proprietary integrated e-commerce platform, Six Spoke Systems, the SF Business Times also named Six Spoke Media to its list of the twenty fastest growing tech companies in the Bay Area. Joining the list with some of the most innovative technology companies in the Bay Area, Six Spoke snagged the tenth spot.
Other notable mentions and big names on this year's tech list are Six Spoke Media client Delphix, claiming the fourth spot in the Top 20 Tech rankings and the seventh spot overall in the Fast 100, Superfish, a visual recognition software company, GoPro, the hot personal camera company, and Cater2.me, a popular company that connects food trucks to customers.
Utilizing its discoverability marketing approach, Six Spoke has won the business of Fast 100 and Global 2000 companies alike. From its inception, it has striven to build a new breed of agency for a new age of engagement and conversational marketing. Kim believes that Six Spoke Media's ability to think differently by bridging data science and performance design allows them to be instrumental in helping brands engage with their empowered and connected customers.
About the San Francisco Business Times Fast 100:
In order to be considered in 2014, a company must be an independent, privately-held corporation, headquartered in the Bay Area, have a three year sales history of 2011, 2012, and 2013, a net revenue of more than $200,000 in fiscal year 2011, and have all fiscal documents verified by global accounting firm Grant Thornton, LLP.
About Six Spoke Media:
Six Spoke Media is a full-service, digital marketing agency and consultancy with integrated marketing experts specializing in brand development, media planning, search engine optimization (SEO), pay-per-click (PPC), email and marketing automation, social media, ecommerce, web development, video, creative services, data analytics, and strategy consulting. Six Spoke Media has physical offices in San Francisco Bay Area, Los Angeles, Dallas, and New York City, with capabilities in the top 15 GDP markets through our extended global team. To learn more about Six Spoke Media, visit http://www.sixspokemedia.com, or contact us at info(at)sixspokemedia.com, 415.710.6182.