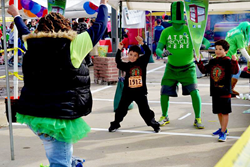 "It's a great opportunity to support our charity in a fun and healthy way," says Martin Ortega, ATRS Accounting Manager and long-time Katy resident.
Houston, TX (PRWEB) November 17, 2014
The annual Katy Y Turkey Dash is a long-held tradition for American Textile Recycling Service employees, families and friends. This year the company joins lead sponsors such as Reliant (an NRG Company), Texas Children's Hospital and Grad Vision to celebrate the 12th annual Thanksgiving morning festivities.
Eight official ATRS runners will be on the course decked out in the company's signature green elf and fairy mascot gear. Its popular Kids Zone Recycling Race draws hundreds of youngsters eager to win the Ricky Recycler relay while parents work up an appetite participate in the 5K and 10K races.
"This is a great opportunity to support our neighborhood charity in a healthy way," says Martin Ortega, ATRS Accounting Manager and a long-time Katy resident. "I've run for the past 4 years, I bring my family and we make a fun morning out while strengthening our commitment to the Katy Y."
ATRS Recycling is in its 3rd year as a Platinum level Katy YMCA Turkey Dash sponsor and year-round fundraising partner of the Clothing & Shoe Recycling program which generates monthly revenue for healthy-minded programs and services throughout Cinco Ranch and Katy TX.
The annual event starts early on Thanksgiving morning and draws over 6,000 area attendees along with a host of food vendors, local businesses and onsite sporting activities. Participants are urged to clean their closets and drop off a bag of unwanted, outgrown, unwanted clothing, shoes, running gear and household textiles to support the Katy Y. Look for an ATRS Recycling onsite in the Katy YMCA parking lot. Every pound generates revenue for after school programs, health and fitness classes and much more.
Since its inception in September 2011, the Clothing & Shoe Recycling partnership has generated over 90,000 pounds of textile materials from collection bins bearing the Katy Y logo to fund their programs throughout Cinco Ranch and Katy TX. It's easy and convenient to clean out your closets, gather up things you no longer need and make a textile donation to benefit the Katy YMCA. Every item stays out of local landfill and goes onto a second life while helping to sponsor programs and services at the same time. For families that benefit from Katy Y programs in the community, it's a win win win solution!
American Textile Recycling Service (ATRS) is the nation's fastest growing textile recycler and an official recycling partner of the Katy YMCA. Its socially responsible business model provides free textile recycling solutions for the public, job stimulation worldwide and much-needed funding for worthy local charities. Easy, convenient ATRS Recyclers are available throughout Houston, Dallas, San Antonio and Austin, Texas, Florida, Michigan, Tennessee, Atlanta, Oklahoma, Arizona, Colorado, and Southern California. ATRS is committed to keeping textile waste from local landfills and promoting a greener tomorrow. For press inquires contact pr(at)atrsonline (dot)com.