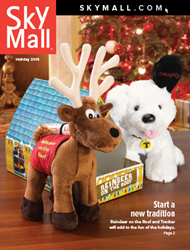 Phoenix, AZ (PRWEB) November 12, 2014
In the tale "The Story of Tracker, Santa's Puppy", a special little dog with amazing and magical powers showed up at the North Pole. It was discovered that after one sniff, the pup could determine who was naughty and who was nice. Because of his very special and helpful talents, this four-legged wonder was named "Tracker" and he had the very special task of tracking children throughout the world.
Now Tracker the plush toy is at SkyMall.com, just in time for the holidays. This soft and cute little plush pup will give children (and adults, too) a friendly sniff, then raise his ears to determine who is "Naughty" and who is "Nice", which is clearly spelled out on the inside of each ear.
SkyMall believes that Tracker can assist moms and dads to help make sure that their children are on their very best behavior during the holiday season. He can also lend a paw (and his magical ears) to teachers, helping ensure that students stay focused on their ABCs during this exciting time of year.
Purchase of Tracker also comes with special access to the tale "The Story of Tracker, Santa's Puppy", Tracker's own special song, holiday games, printable lists and lots more.
Go to SkyMall.com now to order Tracker—he's sure to become a new holiday tradition for years to come.
About SkyMall
SkyMall, one of the most recognized brands in North America, is a multi-channel retailer most known for its in-flight catalog and website, SkyMall.com. The catalog will reach nearly 600 mil-lion passengers in 2014, and it features unique and innovative merchandise including electronic gadgets, home and garden, travel, pets, and gifts. All products shown in the SkyMall catalog plus thousands more are available at SkyMall.com. SkyMall was founded in 1990 and will be celebrat-ing its 25th Anniversary in 2015.