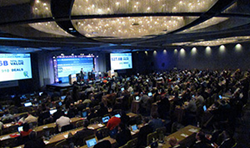 Contact us at sales@tapclicks.com to set up an advance demo appointment.
San Jose, CA (PRWEB) November 11, 2014
TapAnalytics, a business unit of TapClicks, the digital presence company, today announced that they will participate in the LEADING IN LOCAL: Interactive Local Media conference, Dec. 3-5 2014, in San Francisco at the Hyatt Regency San Francisco Airport.
Visit us at BIA/Kelsey's flagship conference, the original digital media conference focused on the interactive local opportunity. TapClicks will be exhibiting its TapAnalytics platform, a complete digital agency analytics and reporting platform.
TapAnalytics delivers cloud-based, on-demand campaign performance dashboards, reporting and analytics for digital agencies and enterprise marketers. TapAnalytics quickly integrates a rich spectrum of marketing campaign data via integrated, customizable dashboards, with performance metrics, results and visualization.
The ongoing transition to digital media has been an amazing journey, with new technologies, content and channels, fueling our reach and ROI. This event has consistently attracted the industry's most interesting, innovative and inspired leaders for more than 10 years.
Join us and learn more:

About TapClicks
TapClicks, Inc., the digital presence company, was founded in 2009, and operates out of offices in Silicon Valley, Canada, India and Mexico. The TapAnalytics business unit focuses on performance reporting, digital ROI, and analytics for agencies and enterprises. The TapClassifieds business unit provides digital classifieds and merchandising solutions for local companies doing business online, delivering a unique ability to generate and track leads and other consumer interactions in unprecedented detail.
For more information, please visit http://www.TapAnalytics.com, email us at info(at)TapAnalytics(dot)com, or call us at +1.866.626.1088.