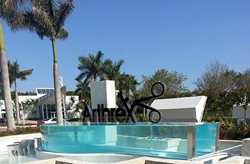 If you want something eye-catching displayed at your business, whether there is water involved or not, the solution can be found with our acrylic.
Grand Junction, CO (PRWEB) November 12, 2014
When an ordinary sign simply will not do, Reynolds Polymer recommends adding some water to the mix. And those who have recently passed by Arthrex corporate headquarters in Naples, FL have probably noticed that the building's new commercial sign is anything but ordinary. The facility's contemporary architecture is now complemented by an eight-foot tall, custom-acrylic water feature. For a company as dynamic as medical device developer Arthrex, the scale of the fountain is quite appropriate. The infinity-edge pool, formed in a gentle wave with 2.4-inch thick walls, is constructed of 2,057 pounds of R-Cast® material. In total, the pool is 25-feet long, nine-feet wide, three-feet high, and required four chemical bonds.
The three-dimensional Arthrex logo in the center of the pool, which appears to float on the water's surface, actually weighs 3,230 pounds. At 8.5-feet high and six inches thick, the lettering had to be machined from a single piece of R-Cast Opaque with a surgical precision worthy of its owner. Together with the flowing waters of the fountain, the Arthrex trademark is both prominent and sleek.
Over the years, R-Cast® acrylic has been used in an impressive array of water features, from hotel lobby fountains to large-diameter outdoor pools.
"Our material is strong, versatile, and attractive," said Josh Fritz, Global Director of Sales – Special Projects, Architectural & Commercial Products. "If you want something eye-catching displayed at your business, whether there is water involved or not, the solution can be found with our acrylic."