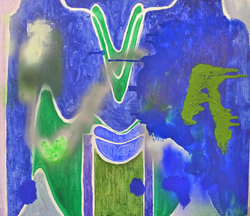 "The art has been such a great talking point for associates and allows our guests to feel more connected to the community," said The Independent Hotel General Manager John Barsoum.
Philadelphia, PA (PRWEB) November 11, 2014
A painting featuring a large blank canvas is hung over the coffee station for a little meta with your morning cup, and throughout the lobby, other bold paintings in vibrant colors emerge —all unique, original works of art to greet guests at The Independent Hotel in Center City Philadelphia. This art fills the lobby and other public spaces of the hotel, as a result of The Independent's partnership with Tyler School of Art at Temple University. They are now celebrating the debut of the series' third installation with an exhibition of 16 pieces from 7 artists in the new class of MFA students right in the Philadelphia hotel's lobby.
"We are thrilled to continue this great partnership," said John Barsoum, general manager of The Independent Hotel. "The art has been such a great talking point for our associates and allows our guests to feel more connected to the community. As an Independent Collection hotel, the Independent Hotel celebrates both art and the neighborhood, and the colorful student artwork that fills the hotel lobby walls really makes that statement."
In celebration of the new exhibit, the hotel is hosting a wine and cheese reception on November 20 from 6:00 to 7:30 p.m. at 1234 Locust Street. Food is being provided by local partners Monk's Café and Fergie's Pub, who will be serving their specialty dishes such as Carolina Pulled Pork. The reception is open to the public, but RSVP is required. RSVPs should be sent to: events(at)independentcollection(dot)com by November 18.
The Independent Hotel, a 24-room boutique hotel, located at 13th and Locust Streets, began its partnership with Tyler School of Art last year and plans to continue the rotating exhibition biannually. All artwork is available for purchase and featured artists are MFA students in Painting at Tyler School of Art, an award-winning art school with a preeminent and highly selective drawing and painting program. Artists featured in this installation are Yuh Chen, Matt Combs, Moira Connelly, Corinna Cowles, Alex Echevarria, Molly Metz and Andrew Negrey.
The works included in the Exhibition:

Yuh Chen constructs paintings and drawings in which layered grids of color create a network of complex compositions that reference the landscape, natural forms and systems of growth.
Matt Combs makes images that explore spaces of inaccessibility, secrets, and fiction. He references places or things that exist in rumor and imagination.
Moira Connelly: Working from 1960's weavings found in her childhood home, her paintings are meditations on a moment that sought to renegotiate the autonomy of the individual and collective. Using these sources as jumping off points, she seeks to bring these ideas in to a present tense in turn posing them as propositions to the viewer.
Corinna Cowles investigates language and the idea of concealing or revealing information. Working with cursive as drawing allows for an exploration of connections between letters and memory, speed and clarity, and control over the viewer.
Alex Echevarria exhibits paintings are about seeing and being seen. One — a blank canvas — represents a stage for potential activity, in which the relationship between the anxiety of deciding how to proceed, and the excitement of possibility, is fluid. The other — a security monitor — represents a specific moment of an endless feedback loop in which the viewer is both watching and being watched.
Molly Metz works with the idea of describing space using limited information. Colors push forward and backward in space, creating a sense of depth and dimension.
Andrew Negrey showcases works from a series of paintings experimenting with sports "playing fields" as a form that occasions and structures a fluid, colorful and conflicted type of activity, drawing an analogy between sports and the activity of painting.
The Philadelphia hotel, which is managed by HHM, formerly Hersha Hospitality Management, has long supported Temple University through hiring graduates and attending recruiting and career fairs. HHM has hired 19 Temple alumni in the last year alone. Jay H. Shah, Hersha Hospitality Trust's chief executive officer, is both a member of Temple University's Board of Trustees as well as an alumnus, having graduated from the JD/MBA program in 1995.
For further information please contact The Independent Hotel at (215) 772-1440, http://theindependenthotel.com/. For further press inquiries, including artists' bios, contact: Mary Gollhofer at (267) 238-5025, mary(dot)gollhofer(at)hhmlp(dot)com.
About The Independent Hotel: The Independent Hotel is a stylish 24-room boutique property located in the heart of Philadelphia's Midtown Village — arguably the city's current cultural epicenter. The Independent Hotel offers guests a charming and intimate atmosphere, seamlessly intuitive service, well-appointed rooms and the perfect address from which to explore the city. Complimentary continental breakfast is delivered to your door and the hotel offers complimentary Wi-Fi throughout.
About The Independent Collection: The IC is a growing collection of cultivated and intimate lifestyle hotels located in unique residential neighborhoods of gateway cities across the US. Founded in New York in Tribeca and then Brooklyn, it has grown to Boston's West End, Midtown Village in Philadelphia, Washington's Capitol Hill and Georgetown, down to Miami's South Beach and west to Hotel Milo Santa Barbara across the last five years. This distinctive hotel concept is renowned for its authentic connection to the local communities, personalized service and residential comforts. Independent Collection hotels are created for the independently minded traveler and invite guests to experience the true spirit of the city. Learn more by visiting http://www.independentcollection.com.
About HHM: HHM, formerly known as Hersha Hospitality Management, operates 115 hotels across the United States. It provides turnkey hotel management, asset management and receivership for properties with leading brand affiliations through Marriott, Hilton, Hyatt, Starwood, and Intercontinental Hotel Group. HHM also operates 28 independent hotels ranging from The Rittenhouse Hotel, a AAA Five Diamond property in Philadelphia, to the Larkspur Landing hotels, all-suite extended stay properties in Northern California and the Pacific Northwest. Its highly experienced team is accustomed to serving as a fiduciary to publicly traded companies, joint ventures, institutional real estate owners and private investors. Additional information on HHM can be found at http://www.hhmhospitality.com.
About Temple University's Tyler School of Art: Since 1935, Tyler School of Art has offered students the combination of a world-renowned faculty and the resources of a major university. Tyler has grown from a small art school in Elkins Park, PA to encompass a wide range of programs in the study of art, design, art history, art education, and architecture all now located on the Main Campus of Temple University. In each program, students work in small learning communities, while also benefitting from the facilities, curriculum, and activities of Temple University. The Department of Painting, Drawing and Sculpture emphasizes art making as an ongoing discipline rooted in a rich history within a globally influenced, culturally diverse and technologically advanced world.