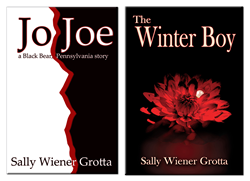 Listen to the stories that your characters tell you, regardless of how they relate to the plot you hope to write. And if their version doesn't fit into yours, find out why. Theirs may be closer to the truth of the tale. ~ Sally Wiener Grotta
(PRWEB) November 13, 2014
On a guest blog post on Writer Unboxed, novelist Sally Wiener Grotta provided guidance to writers on how to create fictional characters that will capture readers' imagination and drive a story forward. Known for the vibrant personalities of the people who live in her novels "The Winter Boy" and "Jo Joe," Grotta provided step-by-step guidance on fleshing out fictional characters.
The essay was inspired by a neophyte playwright who asked Sally Wiener Grotta for advice on the dialogue in her script. After reading the script, Grotta saw that it was "nicely framed, but insubstantial, for the precise reason that she [was] forcing a plot onto stick figure characters which she has created for the sake of her story arc." So, she explained to the playwright, "that the stage (or the book) is a window onto a much larger tapestry of life. Dialogue... isn't something that you plug into a play to tell a story. It's something that comes out of the mouths of the characters who are living that story."
Grotta wrote in the essay, "When I think of any of the people in my latest novel, 'The Winter Boy,' I understand not only who they are within the plotlines of the story, but also about their childhood, their family relationships, the traumas and triumphs that still haunt them. I recognize the twist of their lips when a smile is fake, the smell of their fears, the taste of their memories, the texture of their lives."
Read Sally Wiener Grotta's full essay on Writer Unboxed, which inclues checklist for authors to use to help develop an intimate relationship with their fictional characters.
About Pixel Hall Press
Sally Wiener Grotta's novels "The Winter Boy" and "Jo Joe" are published byPixel Hall Press, a relatively new, old-fashioned small publishing house whose focus is on discovering literary gems and great stories that might otherwise be overlooked. Our mission is to publish books that energize the imagination and intrigue the mind, and to be a conduit between readers and provocative, stimulating, talented authors.
In this era of digital technology, Wall Street involvement and merger mania, many mainstream publishers seem to have lost sight of core principles and the purpose of publishing. At the other end of the spectrum is the veritable avalanche of self-published books that are notoriously uneven in quality. Small boutique imprints like Pixel Hall Press are reclaiming the heart and soul of publishing by reviving the idea that a publisher's core purpose is finding and nurturing great writers, and to provide readers with beautiful, meaningful, truly enjoyable books.