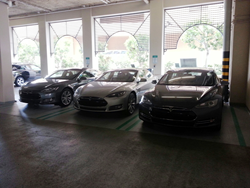 Teslas have large "battery" fuel tanks. You want to fill those tanks with a fire hose, not a garden hose.
Santa Barbara, CA (PRWEB) November 12, 2014
Liberty Access Technologies (LAT), announces a new high speed variant of its Hydra™ line of electric vehicle (EV) charging systems. The Hydra RX provides access control, data recording and energy management capabilities for high speed Level 2 EV chargers with current output up to 80 amps. This high current gives more than a 2X speed increase and cuts charging time dramatically. The Hydra RX model meets the unique charging needs of high capacity, luxury EV's such as the Tesla Model S. The same high speed charging is also being used for delivery vans and utility trucks.
"Tesla has made a remarkable vehicle that has enjoyed wide acceptance in the luxury marketplace. Tesla's have large "battery" fuel tanks. You want to fill those tanks with an electron fire hose, not a garden hose," says Chris Outwater," CEO of LAT. "Hydra RX offers high speed charging for Tesla's and can manage both the Tesla Mobile Connector and Wall Connector. The Hydra RX can also manage the high speed Clipper Creek CS and HCS chargers along with a mix of Level 1 and Level 2 chargers for Leafs, BMW's, Mercedes, VW's, Volts and numerous other popular EV's. In addition, all Hydra models, including the new Hydra RX, offer intelligent load management, so that property owners can offer charging for more Tesla's and other EV's on the same electrical panel without fear of panel overload. The Hydra also meets the emerging automated demand response specifications for Smart buildings."
The Hydra is the best way for property owners to "future proof" their installations for the new vehicles coming online. Both the standard Hydra R-5 and R-10 can be upgraded to the Hydra RX in the field. The new generation of high performance EV's, like the upcoming Tesla models have large batteries and will need a high current flow to "fill their tanks" faster. The new Hydra RX is already operating at sites in Los Angeles and San Diego counties and is charging Tesla's and other EV's at the fastest charge rates possible.
About Liberty Access Technologies Liberty specializes in access control systems for electric vehicle charging in the workplace, fleet EV's, and multi-tenant dwellings.