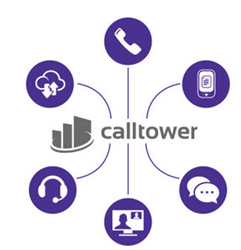 South Jordan, Utah (PRWEB) November 11, 2014
CallTower, a leading provider of cloud-based enterprise-class unified communications solutions, announced today that TMC, a global, integrated media company, has awarded CallTower Complete for Lync a 2014 Internet Telephony Lync Pioneer Award.
"We are extremely pleased to be recognized with the 2014 TMC Internet Telephony Lync Pioneer Award," said Bret England, CallTower's President and CEO. "CallTower Complete for Lync is a communications platform that provides a full feature integrated collaboration tool that brings telephony, video, IM, presence, conferencing and wide range of other unified communication tools into one, easy to navigate interface."
CallTower leads the industry in providing hosted UC platforms built on Microsoft Lync. CallTower has been offering Lync 2013 since its official release to the market place thus being one of the first hosted providers to adopt and implement the newest technology available. Building on a track record of successful enterprise deployment of thousands of users, CallTower has voice enabled Lync, allowing customers to have a full PBX replacement solution.
As Microsoft's approved multi-tenant platform, this architecture provides a cost-effective vehicle for customers to enjoy the benefits with no on-premise costs. With CallTower Complete for Lync as a hosted enterprise class UC solution, customers can obtain a competitive advantage through additional benefits, such as faster implementation, no fixed hardware costs, zero maintenance costs, 24/7/365 live support, and software upgrades at no additional costs.
Additionally, CallTower has integrated the Cisco CallManager platform with the LHPv2 environment. Full call control integration with Cisco CallManager which enables users within the Lync Client to connect with the extensive set of Cisco Unified Communications capabilities, including "click to call," instant messaging, predictive search for contacts with contact integration, inbound call notification, call history display, call forwarding, desk phone control, and presence management. CallTower Complete with Remote Call Control offers a dependable solution with Cisco, providing the benefits of increased collaboration.
About CallTower:
CallTower exists to connect people. CallTower is a leading provider of cloud-based, enterprise-class unified communications solutions for growing organizations worldwide. We develop an innovative platform to deliver hosted best of breed communication solutions with industry leading support. We enhance our clients' strategic and operational capabilities by integrating best of breed business phone service, mobile applications, email hosting, unified messaging, instant messaging, audio, web and video conferencing, collaboration tools, contact center, SIP trunking and global networks into one reliable platform.