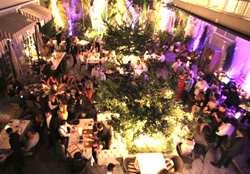 Richard Benefield, Deputy Director at Fine Arts Museums of San Francisco says: "As you may know, I shepherded the show and worked very closely with David Hockney's curator Gregory Evans-very interested to hear more about the Global Fine Art Awards"
Miami Beach, FL (PRWEB) November 11, 2014
The Global Fine Art Awards Ceremony and Event is connecting with the heritage and timing of Art Basel Miami Beach and the mega week of international crowds, where over 75,000 people are anticipated to descend on Miami to experience art and design, and the music and fashion scenes. Miami Beach, mecca to the elite jet set crowd, is the most exhilarating backdrop for the GFAA awards ceremony.
The event will be held from 5:00 pm to 8:00 pm at the elegant Villa Azur Restaurant and Lounge. The evening will feature Laurent Perrier Champagne, and passed hors d'oeuvres. Music by DJ Stephan M. Photography by World Red Eye.
Six winners will each receive a trophy-sculpture created by UNESCO artist for Peace, Hedva Ser. Five of the winners are juried by the GFAA judges Dean Phelus, Peter Trippi and Cathy Leff, selected from 25 finalists in the following categories: Contemporary and Post War Art; Impressionist and Modern Art; Renaissance, Baroque, Old Masters and Dynasties; Ancient Art; Public or Outdoor Installation or Exhibition. The sixth award is based on popular vote, the YOUniversal Award.
This award program is novel in the fine art world, and has captured the interest of many of the nominees, including:
Deirdre Kelly, Director of the Dairy Art Centre in London says: "We are delighted to hear from Sutton PR that one of Dairy's exhibitions (Julian Schnabel: Every Angel has a Dark Side) has been nominated for a global award. Many thanks and best wishes"
Richard Benefield, Deputy Director at Fine Arts Museums of San Francisco says: "Thank you …as you may know…I shepherded the show and worked very closely with David Hockney's curator Gregory Evans.. very interested to hear more about the Global Fine Art Awards… Sounds very exciting"
The event is by invitation only, for all award nominees and members of the press. Supporters of the GFAA program, for donations of $250 or greater, receive an invitation to the event, and other benefits. Details are located on the "support" section of the GFAA website.
All guests are invited to a private Art Concierge breakfast hosted by the GFAA organizers, on Tuesday December 2, 2014, at the Betsy Hotel, where they will learn more about the GFAA program, and all of the art happenings during the week in Miami.
Hosted by: Judy Holm, GFAA Founder and Co-Producer, Corinne Arazi and Ivonn Goihman, Co-Chair Committees
Sponsors include: Villa Azur Restaurant and Lounge, The Betsy Hotel, Champagne: Laurent Perrier; Massimina Caneva Founder of Liaisons Abroad and Byblos Art Hotel for "Art in Italy" Raffle Prize Trip, and Corporate Sponsor: Goihman Group of Douglas Elliman.
Special thanks: Hedva Ser, Renee Farina, Hogan Fritz, A.J. Holm, Jeff Atlas, Kate Shanley, Ashfaq Ishaq, Jonathan Nadler, Celyne Muller, Anaely Delgado, Jose Marino Iglesias, Patricia Wyrod, Catalina Carracedo and Jean Philippe Bernard, Sarah Halstead, Betsie and Benoit Piussan, Nancy Richmond, Anna Khachinyan.
About the GFAA Program:
The GFAA program honors innovation in design, historical context, educational value, and public appeal. The program is instrumental to develop interest and passion for fine art, and further its educational role in society.
This award program recognizes and rewards the best fine art exhibitions and installations of the past year (Aug 1, 2013 – Jul 31, 2014). Five awards are juried, and a sixth award, "Youniversal," is determined by public voting. The program consists of a digital platform, with social media and website (http://www.globalfineartawards.org), and a live award ceremony to take place in Miami on Monday, December 1, 2014.
The nominees were carefully vetted, and hail from as far as the Brouq Natural Reserve in Qatar to the Getty Museum in Los Angeles. More than 200 museums and their respective programming of over 1,000 exhibitions as well as continuous tracking of over 50 major sources of art editorial, were the source for the selection of nominees.
The 62 nominees in 5 categories include exhibitions from 18 countries, 36 cities and 5 continents. Of the top 100 art museums visited in the world, 26 are represented in our list of nominees, including 11 of the top 20 (as appeared in the April 2014 survey by The Art Newspaper).
In addition to period and themed exhibitions, the GFAA Jury also recognizes many solo-artist shows of the most renowned artists spanning the history of time. Artists whose works are among the nominees range from contemporary artists Vik Muniz, Kara Walker, Xu Bing, Julian Schnabel, Richard Serra, Steinnun Thorarinsdottir, Jaume Plensa, David Hockney, Mira Schendel and Robert Indiana, to masters Caravaggio, Canaletto and El Greco.
As part of its educational mission, the GFAA program is partnering with a global children's art charity, the International Child Art Foundation (ICAF), a 501(c)3 nonprofit that serves children in over 80 countries. The partnership will further promote the shared ideals of art, creativity and peace. A portion of net proceeds will directly benefit the ICAF programs.
The GFAA program assembled the best and brightest professionals with unequaled passion for fine art, to create a dynamic and sustainable program.