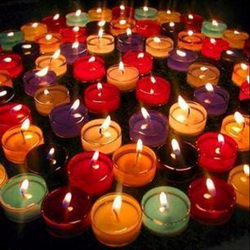 Since 1997 PartyLite has raised more than $14 million for the American Cancer Society.
Plymouth, MA (PRWEB) November 11, 2014
For 14 years, PartyLite, the world's number one candle party company, has maintained a special commitment to battling cancer year round.
But one month that generates even more PartyLite energy for the cause is Breast Cancer Awareness Month. So, in October, PartyLite rallied people, lit thousands of candles from coast to coast and raised $18,531 as part of its second annual effort to Lite Up the Nite.
PartyLite customers, party hosts and guests, and independent business owners who sell PartyLite candles and home décor products all participated in Lite Up the Nite in a number of ways: by holding candle parties, buying candles to benefit the cause, rounding up their purchases to the next dollar and donating the change, and lighting thousands of candles across North America on a single night!
"We actually lit 30,427 candles all over the United States and Canada!" said Joan Connor, President of PartyLite North America. "We wanted to truly light up the night to create heightened awareness of breast cancer, so we asked everyone to light as many candles as they could on one night—Saturday, Oct. 25—and to take pictures and post them on Facebook, Twitter, Instagram and Pinterest. Last year, we lit more than 22,000 candles for our first Lite Up the Nite. This year, we upped our goal to 25,000—and then we surpassed it!"
PartyLite donates to the American Cancer Society and Children's Miracle Network year round. In October, funds were specified for Making Strides Against Breast Cancer and breast cancer research.
"PartyLite in the United States has been supporting the work of the American Cancer Society since 1997, and we've raised more than $14 million for that urgent cause," said Rob Goergen, President of PartyLite Worldwide. "We believe that cancer affects all of us in some way, so we work hard to fight it all year long in the United States. We support other causes, too, like the Children's Miracle Network in Canada. That aspect of our culture, what some call "the heart of PartyLite," is part of what makes it such a special company for all of us."
About PartyLite
PartyLite is the world's #1 party plan company selling candles, candle holders, flameless fragrance and wax warmers as well as holiday and home décor available in 23 countries predominately through independent PartyLite business entrepreneurs. Since 1997, the PartyLite family of consultants, customers and employees has raised more than $14 million for the American Cancer Society and nearly $4 million for Children's Miracle Network. In 2014, PartyLite celebrates 41 years as the global leader in its category and 24 years as a member of the distinguished Blyth family of direct selling companies (NYSE:BTH). PartyLite is one of 53 Direct Selling Association member companies recognized during the 2014 annual meeting for participating in DSA's Code Communication Initiative, focusing on observing and communicating the DSA Code of Ethics as widely as possible. Based in Plymouth, Massachusetts, PartyLite is a member of the Direct Selling Association and the Better Business Bureau. For more information, please visit http://www.partylite.com.