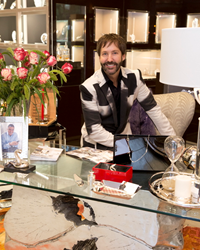 Boston, MA (PRWEB) November 11, 2014
Interior Designer Steven Favreau of Favreau Design is honored to announce his recent board appointments. Steven will serve on the Board of Overseers at the Celebrity Series of Boston and the Board of Trustees at the Walnut Hill School.
Interior designer Steven Favreau is one of the top interior designers and decorators in the Boston and San Francisco areas. His dramatic residential interior design brings together the best of contemporary interior design with classic elements, courageously mixing current styles with fine antiques, vibrant colors, bold textures and whimsical, surprising or even irreverent elements. His unique high-end interior design style, for both residential and commercial clients, has garnered accolades and has ranked as the best interior design for its fresh approach, and has been featured in Design New England, California Home + Design, San Francisco Chronicle Stylemakers, Houzz.com and numerous others. For more information, visit http://www.favreauinteriordesign.com
Since its launch in 1938 the Celebrity Series of Boston has served the community as the region's leading presenter of the world's finest music, dance, and family entertainment. Today the Series continues to pursue its mission to present world class performing artists who inspire and enrich our community. The Series believes in the power of excellence and innovation in the performing arts to enrich life experience, transform lives, and build better communities. It envisions a community of Greater Boston where the performing arts are a valued, lifelong, shared experience—on stages, in schools, at homes—everywhere.
Through participation as audience members, professional expertise, personal and professional networks and financial support, Steven and fellow members of the Board of Overseers at Celebrity Series of Boston are committed to promoting and supporting the organization and its programs. Members are interested, enthusiastic and supportive of the performing arts and represent diverse audiences. They work together with the Board of Directors, and with management and staff, toward realizing the mission and vision of Celebrity Series of Boston.
Walnut Hill School for the Arts is a private boarding and day school for grades 9 through 12, located in Natick, Massachusetts. Walnut Hill provides students with the unique opportunity to live, work, and study in a diverse community of individuals united by their passion for making and celebrating art. Students immerse themselves deeply in one of five core artistic disciplines - dance; music; theater; visual art; and writing, film & media arts, while also pursuing an innovative and rigorous college-preparatory curriculum.
The mission of Walnut Hill School for the Arts is to educate talented, accomplished, and intellectually engaged young artists in a diverse, humane, and ethical community. Guided by this mission and the core values of community, growth, excellence, creativity and respect, faculty and staff at Walnut Hill are dedicated to preparing students to succeed in the arts, in their future studies, and in their lives. The Board of Trustees is committed to the School's mission and helps to provide the leadership, resources, and support needed to ensure Walnut Hill's long-term success.
In addition to his luxury interior design services, Steven Favreau is a powerful and engaging speaker who offers programs on a number of topics. He studied interior design at the internationally recognized Fashion Institute of Technology in New York, yet he came to the world of design in a way that distinguishes him from other interior designers. Growing up in Boston, he originally trained in musical theatre and dance at the Boston Conservatory. He left for Paris where performed as a soloist at the Moulin Rouge, and appeared on European television, and then went on to perform on cruise ships, becoming a cruise director for American Hawaii Cruises. His performing arts background now serves him well as a frequent and accomplished speaker at design festivals and events across the country. For more information, visit http://www.favreauinteriordesign.com
##
Editors Note:

Additional background on request
Interviews with Steven Favreau can be arranged.