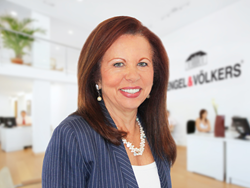 We are thrilled to have such an experienced and accomplished team join Engel & Völkers Beverly Hills.
Beverly Hills, CA (PRWEB) November 11, 2014
Engel & Völkers is pleased to announce that agents Rosalie Klein and Morrie Flaster have joined its new Beverly Hills shop. Klein and Flaster have been recognized as a top producing team in the Southern California area, specializing in the neighborhoods surrounding Beverly Hills and West Hollywood. Consistently ranked in the top 1% of the real estate professionals in the country, Klein and Flaster have sold over $1 billion of real estate in Southern California.
"We are thrilled to have such an experienced and accomplished team join our shop," said Raphael Barragán, CEO and Managing Partner of Engel & Völkers Beverly Hills. "As one of the top teams in our market, who are committed to providing the highest quality service to their clients, Rosalie and Morrie make an outstanding addition to our team."
Klein and Flaster boast a successful career spanning over 20 years in the real estate industry. Their successful sales include new constructions, condominiums, multi-family units, and investment properties. Some of their most significant sales include a 56-unit apartment complex as well as ultra-modern spec houses throughout Los Angeles.
Entering the real estate industry seemed like an ideal career choice, especially for Klein who speaks five languages, including Hungarian, Hebrew, and Russian and has lived on three continents. With Klein's extensive and varied international background, the transition to Engel & Völkers seemed like a natural choice.
"We are excited to join the Engel & Völkers family because of its exceptional reputation as a true international real estate brand," said Klein. "We look forward to leveraging the extensive tools and network Engel & Völkers provides to its advisors and clients all over the world."
Added Flaster, "The Los Angeles real estate market is a magnet for international buyers, and with Rosalie's background, we believe that joining the Engel & Völkers brand is the best way to extend our reach and influence to service our clients. The Engel & Völkers network is unrivaled in that we have access to real estate advisors and clients all over the world."
About Engel & Völkers
Since its inception in 1977 as a specialty boutique providing exclusive, high-end real estate services in Hamburg, Germany, Engel & Völkers has become one of the world's leading companies specializing in the sale and lease of premium residential and commercial property and yachts. Engel & Völkers currently has a global network of 5,300 real estate advisors in over 600 shops in 38 countries across five continents, offering both private and institutional clients a professionally tailored range of luxury services. It established its North America corporate headquarters in 2007 and opened its first brokerage in the same year. Committed to exceptional service, Engel & Völkers supports its advisors with an array of premium quality business services, marketing programs and tools, multiple platforms for mobile, social and web-based marketing and communication, as well as access to its global network of real estate professionals, property listings and market data. Engel & Völkers is an active supporter of the Fair Housing Act and the Equal Opportunity Act. Each brokerage is independently owned and operated.