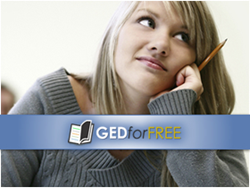 Preparing for a high school equivalency exam is an important investment, and online GED® classes are critical for busy adult students
Santa Cruz, CA (PRWEB) November 11, 2014
The GED® test developed by the GED® Testing Service of the American Council on Education (ACE), as well as the comparable TASC exam developed by CTB/McGraw-Hill, and the HiSET exam developed by Educational Testing Service (ETS) are demanding assessments of student preparation which require excellent resources. As the U.S. Department of Education is trying to get all states to adhere to a new Common Core of standards for high schools, the high school equivalency exams are subject to these similar academic standards.
Since March 12th, 2014, GEDforfree has provided over 200,000 students with free preparation materials. The increased focus on assessing students' analytical and writing skills is central to the course, which is 100% online.
Professionally developed with multimedia and voice-over lectures, the GEDforfree course covers Mathematical Reasoning, Reasoning through Language Arts, Science, and Social Studies. It prepares students for the new computer-based tests delivered at GED testing centers around the country.
"Regardless of the exam chosen, preparing for a high school equivalency exam is a critical investment a students can make in himself or herself." reports GEDforfree.com lead instructor James Donald. "There are a lot of online resources that are outdate or unhelpful. We have developed excellent programs that are easy-to-use and, importantly, offered at no cost." Here's to GEDforfree's continued role in helping students further their educational journeys!